Facilities
Mahindra e- Hub (Me-H) is spread over 2000 sq. feet of area, which can accommodate 15 entrepreneurs. The incubation Centre facilitates through starting, shaping and scaling up innovative ventures resulting from student-faculty research. Some facilities offered are:
Training & Development
Mahindra e-hub would organise various need-based training workshops and events on IPR, Legal aspects, Business Model generation, finance & accounts, business plan, go-to-market strategy etc for the incubating start-ups entrepreneurs from outside. Mahindra University, being a member of Babson Collaborative, incubatees can also attend online events and training workshops organised by Babson College-USA.
Computing and communication facilities
Mahindra e-hub will provide necessary equipment such as computer systems, network, Internet access, telephone. UPS, generator, air-conditioners, etc. The facility of supercomputer shall also be available for all incubates of e-Hub. Some of the other facilities include fax, photocopying, 24 X 7 security, reception, secretarial services, etc.
Process
The increasing interest among students, faculty and alumni in pursuing their innovative ideas and treading the path of entrepreneurship has led to the creation of one of the kind operational model of incubation at Mahindra e-hub. The model includes three phases - pre-incubation, incubation, and graduation.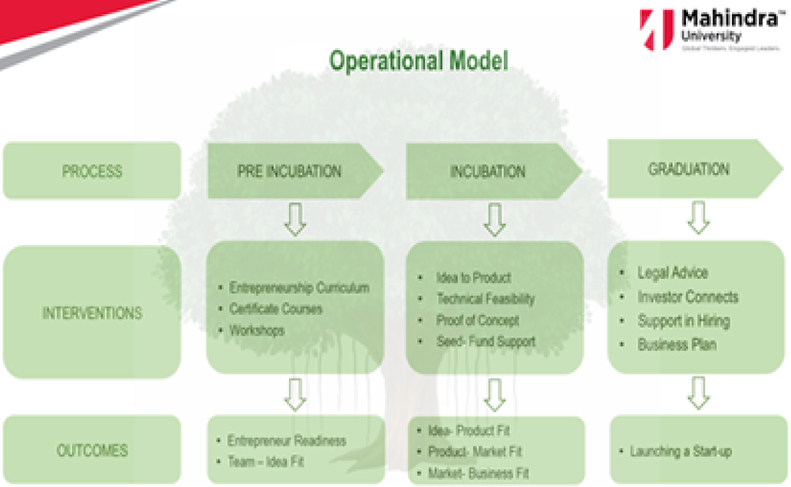 Pre-incubation
Mahindra e-hub would release twice a year call for recruiting a new cohort to generate an adequate number of applications to incubate. A selection committee would be constituted having members from the start-up ecosystem and potential investors. Carefully selected entrepreneurs based on their commitment, readiness and incubation potential will be a part of the cohort. (Read more)
Incubation
The incubation phase is composed of several activities that help the entrepreneur and the start-up to be market-ready. The following activities are performed to support the entrepreneur:
Mentoring
Once the incubatees are on board, their business ideas would be refined with the help of industry mentors and technical experts. Each incubatees will be attached to a mentor for regular interaction and monitoring of the progress. Such mentors would be chosen from the list of mentors already onboarded with Mahindra e-hub and others having relevant industry experience. Incuabtee-mentor matching will be done considering the readiness of the mentor to spare time and expertise.
Gaining proof of Concept
Once the prototype is ready, the incubatees would be guided to go for a test marketing and learn from the customer feedback & user experiences (UX). This is an iterative process. Based on the customer feedback and UX, incubate needs to modify, refine its prototype and repeatedly test the market to validate the value proposition.
Business Model Design
Product-market fit is not enough for the success and sustainability of a new venture. A profitable and sustainable business model has to be designed. Revenue models have to be well thought out so as to make sure the start-ups do not burn the cash for a long. Incubates would be provided with expert mentoring services in this regard.
Graduation
Assistance in Business Plan Preparation & Pitching
Once the business model is validated, incubates will prepare a business plan for pitching to potential investors. Training, guidance and assistance will be provided to incubatees in preparing their winning business plan and a pitch deck. Mock pitch sessions would be organised to provide useful feedback and tips to incubates.
Investors' connect
Since they would-be involved right from the cohort selection process, this step can be eased out. Besides this, pitch days would be organised to invite potential investors. Incubatees will also be encouraged to participate in various business idea/ business plan competitions so as to hone their skills in pitching and validating their business plans.
IPR & Legal Services
Mahindra e-hub has already retained a highly reputed agency-Accelero Corporation- a legal and accounting services company dedicated to start-up needs. The faculty members of the school of law at Mahindra University would be additional resource persons for guiding incubatees on legal and IPR matters.
Hiring Support
Mahindra University with its' large pool of engineering and business management students, the incubating start-ups would be encouraged to hire interns at affordable salaries.