Mahindra University- A Campus Unlike Any other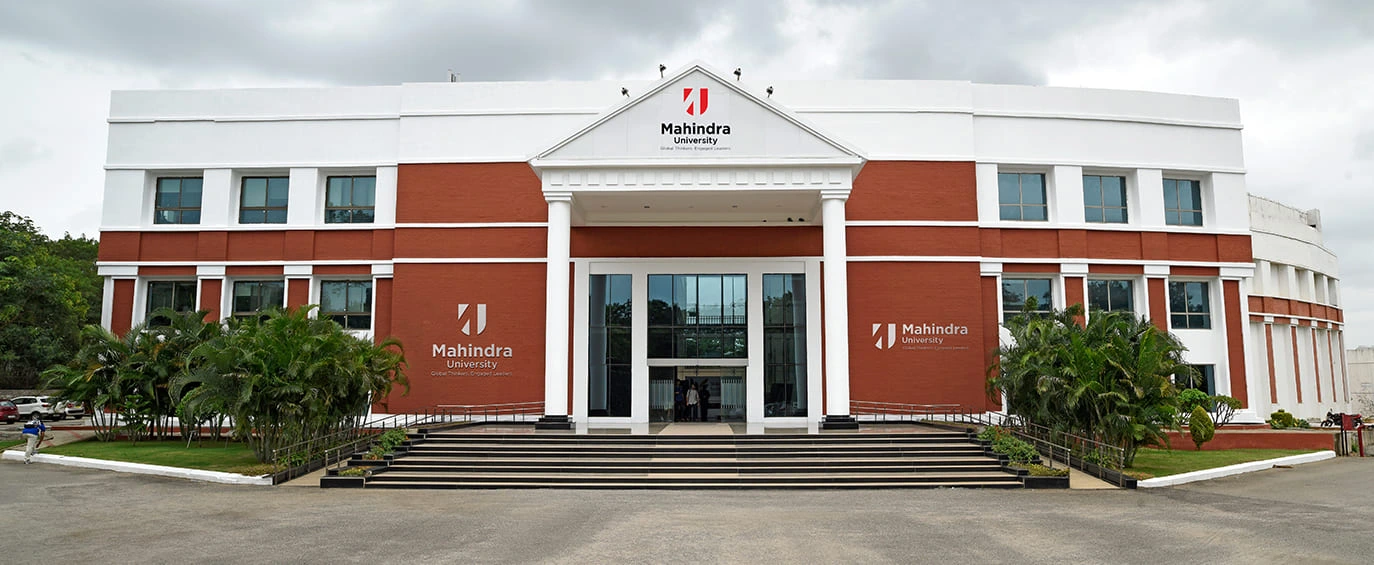 Mahindra university, which became the first private university in Telangana in 2020, has undertaken alliances with research institutions, partnerships with government and other agencies, thus leaving no stone unturned to ensure the quality of our academic programs and excellence of our teaching, learning and research. The four schools, Mahindra École Centrale School of Engineering, Mahindra University School of Management, Mahindra University School of Law, The Indira Mahindra School of Education, are uniquely placed and equipped with the understanding that is expected to propel the students to attain their best.
The Mahindra University has been established in a sprawling 130 acres at Hyderabad. The university provides students with a modern lifestyle and a unique multi-cultural immersion in a predominantly green campus. Elegant hostel accommodation, sports and recreational facilities, and several dining areas serving global cuisine add to the world-class ambience of the campus. Through the provision of connected classrooms, laboratories, computer centres, a well-stocked library and prototyping facilities, every faculty member and a student has easy access to modern equipment and the information they need to complement their academic activities.
Mahindra University is home to advanced scientific infrastructure that aid faculty and students in keeping up with real-world problems and the latest trends in the industry.
The beautifully designed, completely Wi-Fi campus has carefully composed spaces for recreation and sport. Air-conditioned and modernly styled classrooms and conference rooms provide students and teachers with the flexibility to create learning environments on the go. The library is home to thousands of books and multimedia resources. The student housing facilities on campus are equally unique, with contemporary designs and spacious rooms. There are currently has eight functional hostels that offer twin sharing non-AC rooms for the students. Seven out of these eight hostels have attached washrooms in every room.
Sports and sportsman spirit are an integral part of the culture, with grounds available for almost all kinds of sports imaginable.
The cafeteria provides nutritious home-cooked like meals and an array of mouthwatering and delicious cuisines. There is also a café that furnishes delectable snacks and juices according to the students' needs.
There is a medical bay, doctor's room, and an ambulance service that runs 24/7. There is also a provision for dental care periodically. The gym, along with a trainer, provides fitness at its maximum to the students of the university.
The Library at Mahindra University is at the forefront of its ever-growing infrastructure and development, consistently receiving attention from its management. As a result, it has a rich collection of books, journals and online resources. The library has books of various nature. It has 14,000+ engineering books, 1800+ Law books and 500+Management books.
The Mahindra University Library, located on the first floor, is a 405 sq. m. facility. It has reading rooms for both professors and students, textbooks, reference book sections and library staff cabins. An open-access system enables users to browse and pick up documents of their choice without any hindrance. The seating capacity is 150, with a Wi-Fi facility to access e-resources in the digital library section.
There are clubs at Mahindra University for each student's hobby. From Dance Club, where the emphasis is on having fun and retaining dance cultures to debate, and literary club where students are encouraged to debate and a space where people can participate and improve in writing, speaking. There are clubs even for astronomy and aeronautical enthusiasts and outreach club which focusses on helping and lending a hand to the lesser privileged. These clubs help the students get good exposure and help them to do something other than studies.
The campus life at Mahindra University is something to look forward to. Something the students will have great fun exploring and finding out.