Overview
École Centrale School of Engineering, Mahindra University (MU) Hyderabad, which has been offering several four-year B.Tech. degree programs in engineering since 2014 in partnership with the École Centrale Group of Institutions of France now announces admissions to its interdisciplinary M.Tech programs.
These fully residential M.Tech. programs are aimed to create post graduate engineers with the unique ability to adapt to global engineering challenges and adopt new technologies that would help redefine the future, train and prepare Engineers to meet the challenge of interdisciplinary complexities demanded by multinational organizations.
Sponsored by Mahindra Educational Institutions (MEI), a subsidiary of Tech Mahindra, the flagship IT company of the Mahindra Group, Mahindra University's purpose is 'To educate future citizens for and of a better world'.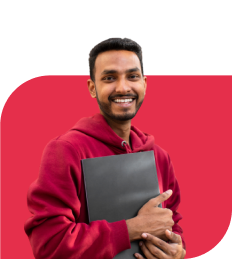 MU's overarching Vision is to
Train Multi
Skilled
Students
MU has an international faculty roster with a rich industry-academic background, global exposure and research focus, contemporary curricula that is frequently reviewed and updated, and aligned to the global business and industry requirements.
Train multi-skilled leaders capable of reflection as well as innovation, committed to inclusive and sustainable progress.

Aim for interdisciplinary academic excellence by integrating the study of science and technology with liberal arts that cover humanities, ethics and philosophy, and design thinking.

Balance education with experience through entrepreneurial projects to solve complex challenges facing the society.
International Program
Program
Highlights
Truly international program with a focus on the natural, creative and engineering sciences

Environment of unique cultural immersion for students, faculty and staff

International Exchange Program with mandatory internships

A research-driven program with close links to industry

Inter-disciplinary approach to engineering education with a mix of Humanities, Social Sciences, Management and Philosophy
Specializations and intakes:
*Up to a maximum of 15% of the overall intake will be kept for NRI / PIO applicants