Our
Vice-Chancellor
Mahindra University
Dr Yajulu Medury is an acclaimed academician and a seasoned professional with more than three decades of rich academic and administrative experience.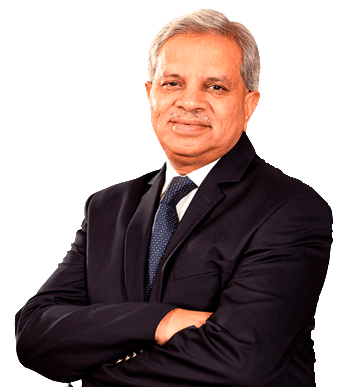 Dr. Yajulu Medury, our founding Vice Chancellor, brings a wealth of knowledge and innovation to his role, driving the university towards excellence and distinction. He holds a prestigious B.Tech. Honors degree from IIT, Kharagpur, and completed his MS and Ph.D. in Engineering Mechanics at the esteemed University of Wisconsin, Madison, USA.
Dr. Medury has had an exciting career journey filled with leading and founding higher educational institutions across India. With an academic journey spanning more than three decades, he is known for successfully establishing 3 Universities (2 State and 1 Deemed) between the years 2001 and 2003.  Before joining Mahindra University, Dr. Medury was the Vice-Chancellor of Bennett University at Greater Noida, U.P. During his tenure at Bennett University, he developed academic partnerships with Georgia Tech for Engineering, Johnson Business Cornell University for Management, Cornell Law School for Law, Babson College USA for Entrepreneurship and others. Immediately before that, he served as the Vice-Chancellor of Jaypee University of Information Technology, Waknaghat, Himachal Pradesh, and Founding Vice-Chancellor of VIT University, Vellore, and Chairman & Managing Director of Educational Consultants of India Limited, a Public Sector Undertaking of the Government of India.
He has authored over 50 publications that have garnered significant recognition and have been widely disseminated in national and international journals and conferences.
Dr. Medury's passion lies in empowering students and equipping them with the skills they need to succeed. He firmly believes that education should be an immersive and transformative experience, and champions personalized learning, experiential education, and real-world industry collaborations to ensure that our students are ready to tackle the challenges of the modern workforce. His leadership style is marked by his approachability and dynamic presence. He actively engages with students, faculty, and staff, making himself readily available for discussions and feedback. He fosters a collaborative and inclusive environment, where everyone feels valued and heard.
Moreover, he is deeply committed to promoting inclusivity, diversity, and social responsibility within the university community. He believes in the power of education to create positive societal change and endeavors to instill these values in the fabric of Mahindra University.
Dr. Medury's unwavering dedication to advancing education have made him a motivating force behind the success of Mahindra University. Under his leadership, the university is poised to become a beacon of innovation and excellence in the world of higher education.