Overview
The Master of Business Administration (MBA) program is specially designed keeping in mind the current and future needs of the industry. It prepares young, energetic and curious minds to handle the complexities in the 'technology led' future.
The ideal student for this MBA program would be a fresh graduate or a young professional.
The candidate needs to have a good analytical skill, a curious mind, and willingness to learn attitude
This is two-year long, full-time program and is fully residential. Students will have to stay in the university hostels for the entire duration.
The unique specializations offered during the second year prepare you to meet the emerging needs to the industry.
Experienced faculty drawn from various disciplines and geographies will teach in the program.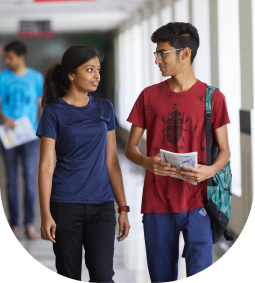 The program duration is 2 years and classes for the program start in August each year.
Academic Partnerships
Mahindra University has international collaborations with leading institutions around the world. Some of our academic partnerships are listed below.

International
Immersion
The program includes an international immersion where all students will be required to go an international trip to gain an appreciation of international diversity and develop the mindset of a global manager.
Each year, the trip may be to a different location like Europe, China, Australia, Africa etc.
Career
Services
The program will offer the full suite of career services including summer internships and campus placements.
Students shall be groomed for corporate roles through the curriculum, soft-skills training, resume workshops, interview preparation and interaction with industry and HR professionals.
Curriculum
The curriculum has been carefully designed to impart the following skills.
Business knowledge
Analytical & critical thinking skills
Communication skills
Business IT tools skills
This is done through offering a common core in the first year that will include life skills courses in addition to core business courses. The second year will consist of electives and the students will have the option of choosing up to two specializations from the available options listed below
Specializations
The MBA program currently offers the following specializations.
Business Analytics
Finance
Digital Business
Summer Internship
Summer internship is mandatory and takes place in the summer break between the first and second year. There are six credits that are awarded for the internship. The career services team will work with students to help them find appropriate internship opportunities.
Get Educated by the
Best Faculties
Contact Now
Please share your details for more information