Overview
Applied Sciences, Life Sciences, Humanities and Social Sciences Admissions 2024
The Ph.D. in Engineering is a quality course with updated media labs and design thinking laboratories. The Ph.D. students get an excellent opportunity to interact and work closely with the faculty in all interdisciplinary research subjects. The faculty members are the experts in their specialized subjects and can teach the students with utmost excellence. The research infrastructure is of top-notch level, and the laboratories in science and engineering are of high quality. The best part about their research infrastructure is that they are constantly upgraded.
The Doctor of Philosophy (Ph.D.) degree is acknowledged to be the highest university degree that is conferred on a doctoral student, who successfully defends her/his Ph.D. thesis in front of a panel of experts in the field appointed by the University after having spent a stipulated time and having achieved publications in reputed international journals and conferences.
The first year would require the Ph.D. candidate to go through a set of prescribed course work followed by initiation to research and comprehensive examination and carrying out actual research with the Ph.D. Adviser. The journey to earning Ph.D. degree typically goes through a cycle of four phases involving preparation, challenges, small and big successes and ultimate joy of successful defense of the written thesis. Completion of a thesis, depending on individual performance, typically may take about 4 years.
For Ph.D. Admissions 2023-24
(Fall 2023 Semester starting in Aug, 2023)
For Ph.D. Admissions 2023-24
(The Spring 2024 Semester starting in January, 2024.)
Specialized areas in which PhD students, if found suitable, would be admitted in Spring 2024 semester
| | |
| --- | --- |
| Last Date for submission of applications – 1st Round | 12th Dec, 2023 |
| Shortlisting of candidates for interview | 15th Dec, 2023 |
| Online interviews for selection | 20th -22nd Dec, 2023 |
| Announcement of Results | 8th Jan, 2024 |
| Commencement of the Spring 2024 Semester Teaching | 22nd Jan,2024 |
Note: Admission closes on 23 august 2023
*Subject to revision
Ph.D. Admission Contact details
The Mahindra
Edge
Ph.D. students at Mahindra University would have great opportunities for interdisciplinary research by working closely with our faculty, some of who are at the forefront of their fields (may like to check faculty profiles on our website). Our research infra-structure in terms of state-of-the art laboratories in science and engineering are of high quality and are being continually upgraded. Government of India funding agencies like SERB, BRNS, DRDO, MeitY, etc., have already funded several research projects as well as international collaboration projects granted by DST's International Division.
Ph.D. programs are offered in Engineering and Applied Sciences. For those who wish to pursue liberal arts at Ph.D. level, we have a strong Humanities and Social Sciences program, which is backed by high-quality Media and Design Thinking laboratories and Entrepreneurship cell.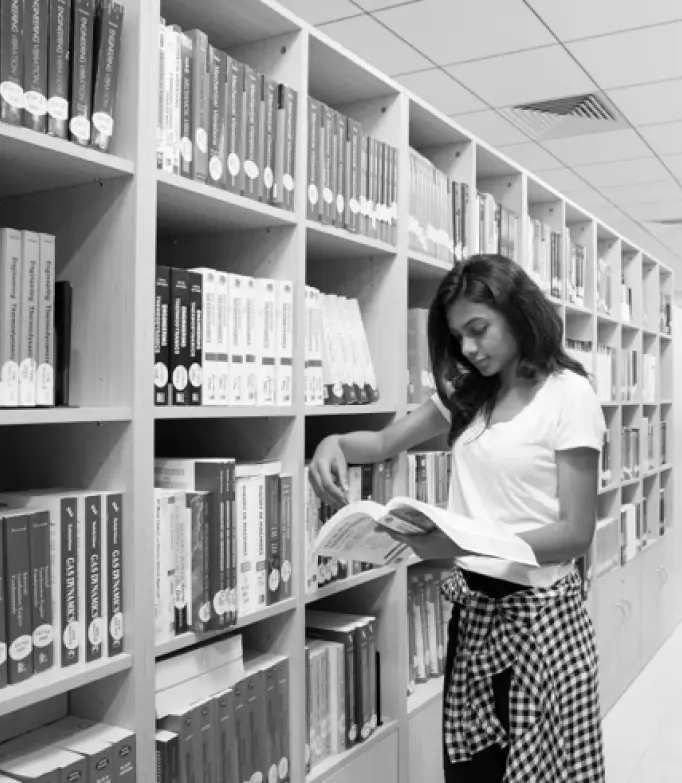 Eligibility Criteria
Minimum qualification required for admission
Program: Ph.D. (Full Time)
Admission Process: Interview
Master's degree in Engineering/Technology/Science/Humanities/Social Sciences with a minimum CGPA of 6.00 on a 10-point scale or 60% marks in aggregate. Full time students who do not possess M.Tech. or equivalent degree and instead possess B.Tech. or equivalent degree with a minimum CGPA of 7.00 on a 10-point scale or 70% aggregate marks are required to have a valid GATE score or UGC/CSIR/DBT/INSPIRE Fellowship Examination for Sciences/Humanities and Social Sciences disciplines.
The requirement of GATE/National examination can be waived off for possible admission to Ph.D. programs for all graduates from Centrally Funded Technical Institutes with a B.Tech./B.E./Integrated M.Sc. (or any other program of minimum four years duration, admission to which was on the basis of JEE) with CGPA of 8.00 and above at the time of graduation.

The requirement of GATE/National Examination can be also waived off for M.Sc. graduates from IITs with a CGPA of 8.00 and above.
INR 50,000/-
PER ANNUM
INR 20,000/-
SECURITY DEPOSIT
(ONE TIME PAYMENT)
Ph.D Assistantship
(for full time scholars)
INR 30000/- Per Month* ( plus Boarding and Lodging )
*8 hours/week TA duty is mandatory