Explore Our World-Class Infrastructure and Facilities:
Enhancing Your University Experience
State-of-the-art labs enable students to deepen their classroom learning through practical application. The vast campus and recreational facilities offer a variety of outdoor and indoor activities. Accommodation and dining facilities at MU have set new standards for comfortable and convenient living in Indian engineering colleges.
Unlocking Innovation with State-of-the-Art Lab Facilities:
Experience the Best at Our University
With equipment sourced from the most preferred vendors globally, MU labs are on par with the finest in the world. It provided In-depth practical knowledge to the students to nurture their skills. The students can practice in the state of the art labs and hone their expertise, which will place them one step ahead of others.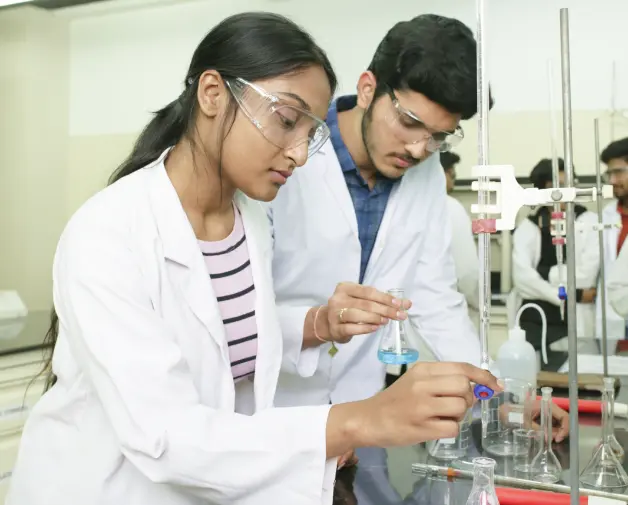 Find Your Home Away From Home:
Discovering the Best Accommodation Options at Our University
MU has a mess hall that is operational 24/ 7 and provides delicious food to students and staff alike. Our hospitality partner is dedicated to cleanliness in the mess hall, and follows a protocol which ensures high standards of hygiene in the preparation of meals. The mess serves a variety of cuisines in accordance with a meal plan that is both nutritional and gastronomically wholesome with a different menu for every day of the week.
Food is served four times a day – breakfast, lunch, evening snacks and dinner. The spacious and comfortable hostel premises along with excellent food and co-curricular activities help in the holistic growth of an individual by providing them space and sustenance along with stimulating their creativity. It comes as no surprise that many consider it the best hostel and mess facility.
MU currently has eight functional hostels that offer twin sharing  AC rooms for the students. The hostels have a homely atmosphere which make the students feel comfortable. The hostels also include amenities which allow the students to indulge in various extra-curricular activities within the premises.
Join the Excitement:
Discover Our Diverse Range of Student Clubs and Organizations
Mahindra University believes that every passion and interest is worth exploring and supports any and all exciting ideas that students have for creating new organizations, so long as they are not insensitive or offensive to other members of the University.
The student clubs and societies provides each student the opportunity to explore their passion outside their regular studies and collaborate and learn as part of a community that is bound together by shared interests.
Following are the clubs and societies at MU –
Healthy Campus, Healthy You:
Explore Our Comprehensive Health Center Services
MU has a Medical Bay, Sick Bay, Doctor's room, and an Ambulance service that runs 24/7. There is also a provision for dental care periodically.
Yoga classes are conducted every week, with an instructor to provide individual attention to the needs of some students. Another significant part of the fitness facility is the Gym that is operational during both morning and evening hours. The gym also has a trained Gym instructor, who monitors the students and helps them individually to reach their goals in a stipulated time.
The upbeat music playing during the workout provides an additional energy and keeps the mood of training and fitness intact within the gym. The diverse health and fitness facilities ensure that students at MU enjoy good health and fitness through the year.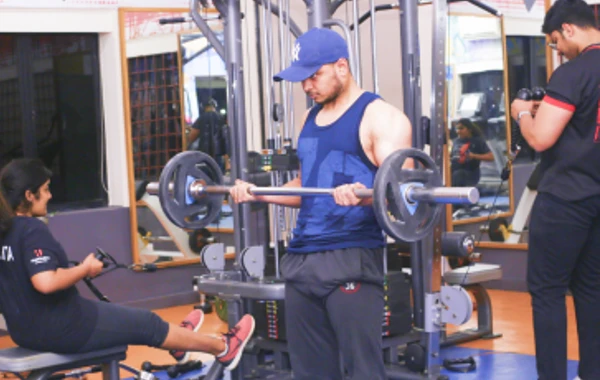 Experience the Future of Learning:
Discover Our State-of-the-Art Smart Classrooms
MU's classrooms deploy technology that is state-of-the-art to impart a multi-media learning experience to the students. Smart-boards, audio-visuals, PPTs, Interactive modules and also the traditional chalk-on-board methodology are used to maximum effect.
Connected classrooms bridge gaps to enable on-demand access to all necessary information from within the classroom. The Intranet with its own resources and archives, extends the classroom into a virtual space that is accessible on campus using authentication protocol.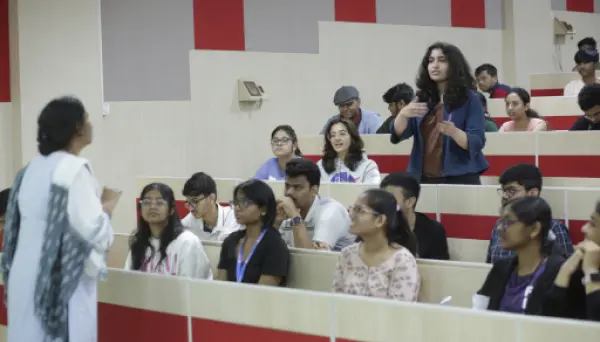 Exploring Knowledge and Beyond:
Discover the Resources of Our University Libraries
Mahindra University with the best of infrastructure, provides creative learning spaces that are required to develop well-rounded professionals. The MU library stocks over 13000 volumes on a wide variety of subjects. It deploys a Library management system with RFID indexing and inventory. It also has an E-Library with access to thousands of online resources, housing a computer lab that is connected to the Internet, providing students with free access to digitized academic journals.
Students are allowed to work on their assignments and conduct research in the quiet environs of the library till 1am early morning.
An open reading section is dedicated to newspapers, journals and international periodicals while a separate library section and reading area for the faculty provides them the necessary privacy.
Opening Hours
Monday-Friday
08 a.m to 1.00 a.m
Saturday
10 a.m to 5.00 p.m
Sundays & Holidays
Closed
Discover Our State-of-the-Art Campus Infrastructure
Where Innovation Meets Excellence
MU, an Engineering college with the best of infrastructure, provides creative learning spaces that are required to develop well-rounded engineers. The vast campus and recreational facilities offer a variety of outdoor and indoor activities.