Overview
Mahindra University, notified by the Government of Telangana vide Telangana Ordinance No. 1 of 2020 dated 20th May 2020, announces the launch of its 1st Batch of MA (Education) admissions in the Semester starting in Aug, 2023. The MA Education program will be offered by Indira Mahindra School of Education (IMSE), Mahindra University.
IMSE is committed to prepare students interested in Education to build their careers and become the next generation of professionals and leaders.
The IMSE has been offering PhD program in Educational Studies since its inception. The School is geared to launch an M.A. in Education from the academic year 2023-24. These courses are designed to open up windows of opportunities in the development sector, teaching, research, consultancies and education policy and practice think-tanks. The School with a team of world class faculty trained in reputed universities in India and abroad with excellent teaching and research experience strives to cater to the needs of aspiring students and matching the demands of the fast-growing education sector.
The IMSE has the advantage of being located in a multi-disciplinary, multi-cultural and a vibrant residential campus environment. The School is inter-disciplinary in nature and offers specializations rooted in multi-disciplinary training and sectoral peculiarities within the field of Education. With a commitment to inculcate critical thinking and encouraging professional growth of students, the School envisions to be a centre for imparting quality education and striving for excellence. Mahindra University is committed to the vision of imparting quality education. Our objective is to ensure that the University gives students a proper foundation for their professional careers and a clear pathway for personal growth through encouragement and mentoring by our esteemed faculty. As a University we are committed to growing as an institution, which is committed to playing a significant global role in teaching and research in the areas of science and technology, liberal arts, education, law and management.
MA Education:
Are you grappling with making a choice for your Master's degree? Will you be interested in pursuing Education as your field of interest? Do you have a Bachelor's degree in any subject or any discipline from a university and you wish to add a secure and passionate pathway? If your response is a yes, then do join us at the Indira Mahindra School of Education, Mahindra University, Hyderabad. Indira Mahindra School of Education is launching a Two-Year MA (Education) from the academic year 2023-24.
What we offer:
A Master's degree that opens up windows of opportunity in the development sector, teaching, research, consultancies, and think tanks.
World class faculty trained in reputed universities in India and abroad with excellent teaching and research experience.
Critical research orientation to teaching.
Encourage regular student and faculty interactions.
Opportunity to specialize in different areas of interest within Educational Studies, such as School Education, Higher Education, Sociology of Education, Educational Management and Leadership, Psychology of Education, Educational Program Building and Innovations, History of Education, Economics of Education, Educational Policy Studies, Curriculum and Pedagogical Studies, Educational Organization, Technology and Education.
Exposure to rigorous and diverse theoretical perspectives and ample field experiences that prepare students for the growing education sector.
A multicultural, multidisciplinary and vibrant campus environment.
On-campus hostel accommodation.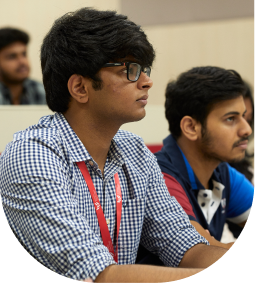 Program Profile: M.A. EDUCATION PROGRAM
M.A. Degree will be awarded after successful completion of TWO years of study as per academic program & curricula set and approved by the Academic Council of the University.
| Program | Proposed intake for the academic year 2023-24* |
| --- | --- |
| M.A ( EDUCATION ) | 30 |