"We promote Research at an International Level of Excellence to extend the edge of Scientific Knowledge and Contribute to the Rise of a New India"
With the aim to achieve the vision of Mahindra University, the faculty members of the university strive towards the development of Basic and Applied Research, which caters to the industrial needs, the training, and involvement of students.
The research areas at MU are predominantly engineering-focused. With the unique orientation towards contributing to the rise of new leaders in India, MU has teams working in the fields of media, economics, and humanities.​
Our Research Areas
Our university's research spans diverse fields, from cutting-edge AI and sustainable energy solutions to technology and life sciences. Our scholars experiment, discover, and explore knowledge to shape a brighter future.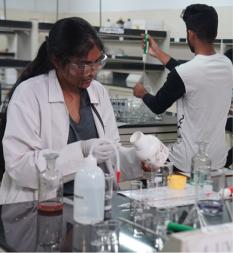 Research at MU is organized focusing on high level projects identified / developed by the faculty members. The Research areas at MU are predominantly Engineering focused, due to its unique orientation towards contributing to the rise of new Engineers in India. Around twenty research teams are involved in these different areas, and depending on the projects they are developing. MU is in receipt of research grants from DST, BRNS (DAE), SERB and other Government agencies as well as private organizations.
The various research areas at MU are as follows: