Mahindra
University
A university with a significant role in the global dynamics of R&D and higher learning, where students are motivated to attain their true potential. The faculty and staff aim to achieve excellence in pedagogy and contemporary frontiers of research and in providing services respectively while alumni strive to achieve global leadership.
"A new paradigm made possible by a historic collaboration involving the Mahindra Group and École Centrale Paris"- Anand Mahindra, Chancellor
Mahindra University is home to exceptional schools of Engineering, Management, Law, Education, Life Sciences, Media and Hotel Management that offer a world-class education. The university equips students with cutting-edge technical skills and fosters innovation through industry partnerships. Further, the schools nurture leaders by comprehensively understanding strategies and practices. All the schools emphasize experiential learning and research, preparing students to excel in their chosen fields. Mahindra University's schools empower students to become future-ready professionals.
Let us help you
Find your program
Mahindra University's faculty are world-renowned for expanding the boundaries of knowledge while educating the generation of thinkers and doers. They are all highly qualified faculty, all of whom are doctorates from reputed premier institutions and universities from around the globe.

Experience
Mahindra
Mahindra University signifies Global Thinkers and Engaged Leaders. The professionals who think how the world is for them and others and how to make it a better place through positive engagement. Further who embodies the Mahindra Rise spirit of Accepting No Limits, Driving Positive Change and Alternative thinking.
Research and innovation thrive at the heart of our academic pursuits at Mahindra University. Our world-class faculty and cutting-edge facilities foster groundbreaking discoveries across diverse fields. We foster a culture of curiosity, creativity, and collaboration, resulting in discoveries and solutions that address real-world challenges. Our commitment to excellence drives us to be at the forefront of research-driven innovation, making a meaningful impact on society and the world at large.
Our Best
Recruiters
Over the period of 5 batches, more than 200 recruiters have participated in on-campus & off-campus for full time and internship processes and selected 90% of the interested and eligible students. There is an addition of 35+ organisations every year over a plethora of sectors who are invited to our campus for recruitment.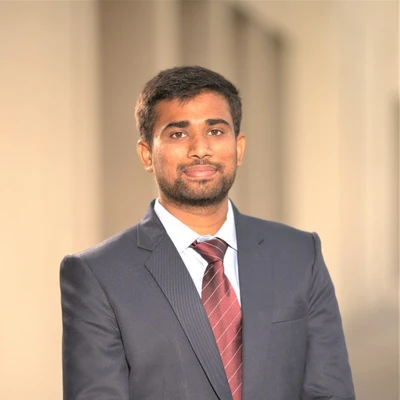 Hemanth Reddy
Mechanical Engineering, Batch (2014-2018)
Mahindra University was the perfect place for me to pursue my degree. The campus was diverse and inclusive, and I had the chance to learn from people with different backgrounds and experiences. As a result, I left the University feeling well-prepared for…