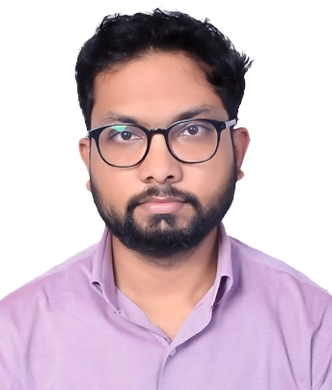 Ashish Kumar Sahu
Assistant Professor
ashish.sahu@mahindrauniversity.edu.in
Dr. Ashish Kumar Sahu currently serves as an Assistant Professor in the Department of Mechanical Engineering at École Centrale School of Engineering, Mahindra University. He is holding a PhD in Mechanical Engineering with a specialization in manufacturing and automation from the Indian Institute of Technology Delhi, Dr. Sahu also earned his M.Tech. degree from NIT Warangal.
His professional journey includes a role as an Opto-Mechanical Product Designer at Suresh Indu Lasers Pvt. Ltd Pune. Here, he demonstrated expertise in developing laser-based manufacturing systems and ultra-precision machining systems.
Dr. Sahu's contributions extend to his work on the Design & Development of an Advanced CNC Micromachining System funded by DST at IIT Delhi. His efforts have been recognized with the GYTI (Gandhian Young Technological Innovation Award) appreciation award in 2020.
His research endeavors primarily revolve around advanced manufacturing processes, modeling and simulation, additive manufacturing, industrial automation, smart manufacturing, and Industry 4.0. Dr. Sahu's research group focuses on these areas, aiming to push the boundaries of knowledge and innovation in the field.
2017-2022
Ph.D. (Manufacturing and Automation), Indian Institute of Technology Delhi, Jan 2017-March 2022
2012-2014
M.Tech (Manufacturing Engineering) National Institute of Technology, Warangal, July 2012-June 2014
2008-2012
B.E. (Mechanical Engineering) Rajiv Gandhi Technical University, Bhopal, July 2008-June 2012
2022-2023
R&D Opto-Mechanical Product Designer; Suresh Indu Lasers Pvt. Ltd. Pune a May 2022-June 2023
2022-2022
Early Doc Fellow, IRD IIT Delhi; March 2022 to April 2022
2016-2017
Project Staff, IIT Delhi, June 2016 to January 2017
2014-2016
Assistant Professor, Parul University Vadodara from July 2014 to May 2016
Journal Publications
2023
A K Sahu, F Iqbal, S Jha, Quality enhancement of micro-milled channels with automated laser assistance, Int. Journal of Advanced Manufacturing Technology 2023 (under publication) IF 3.563
2022
2021
R. Poddar, A.K. Sahu, S. Jha, Experimental investigation of nanosecond fiber laser micro grooving on cylindrical surface, Mater. Today Proc. 44 (2021) 2005–2012 doi.org/10.1016/j.matpr.2020.12.120., Scopus
2020
A.K. Sahu, S. Jha, Microchannel Fabrication and Metallurgical Characterization on Titanium by Nanosecond Fiber Laser Micro-Milling, Materials and Manufacturing Process,35,3 279-290 https://doi.org/10.1080/10426914.2020.1718702 IF 4.616 .
2019
A K Sahu, F Iqbal, S Jha, In Situ Geometric Measurement of Microchannels on EN31 Steel by Laser Micromachining Using Confocal Sensor, International Journal of Precision Technology 2019 Vol.8 No.2/3/4, pp.429 - 445 DOI: 10.1504/IJPTECH.2019.100948
Conference Publications
2023
G Dirisenapu, L salavaravu, M kolli, R Bandi, A K Sahu and K Satyanarayana Optimization of process variables on Electrical Discharge Machining of novel Al7010/B4C/BN hybrid metal matrix nanocomposite https://doi.org/10.1051/e3sconf/202339101170 01170, page 13, E3S Web Conf. Volume 391, 2023(SCOPUS)
2019
A K Sahu, S Jha, Experimental Investigation of Taper and MRR of Microchannel Fabrication by Laser Micro milling, Proceedings of COPEN 19
2017
A K Sahu, F Iqbal, S Jha In Situ Geometric Measurement of Microchannels on En31 Steel by Laser Micromachining Using Confocal Sensor, Proceedings of COPEN 2017
A Kumar, A K Sahu, F Iqbal, S Jha Non-Contact Measurement in Plate Bending Using Confocal Microscopy, Proceedings of COPEN 2017
2014
A K Sahu, M Kolli, GV Rao, A Kumar,Experimental Investigation of Electrical discharge grinding of Ti-6Al-4V Alloy Using Rotary Brass Disc Electrode in ICMMM 2014 proceedings (ISBN 978-93-80689-18-0)
Book Chapters
2019
A.K. Sahu, J. Malhotra, F. Iqbal, S. Jha, Experimental Study of Nanosecond Fiber Laser Micromilling of Ti6Al4V Alloy Advances in Micro and Nano Manufacturing and Surface Engineering Springer Singapore pp 371-380 (AIMTDR 18) ISBN 978-981-32-9425-7
J. Malhotra, A.K. Sahu F. Iqbal, S. Jha, A Cyber-Physical System Architecture for Smart Manufacturing, Advances in forming, Machining and automation pp 637-647(AIMTDR 18), ISBN 978-981-32-9416-5
Patent
2021
Apparatus and method for performing a milling operation, Indian Patent, Application No: 202111006521 Date of Filing: 16/02/2021 Inventors: S Jha,A K Sahu, T Verma & O Chawla (FER submitted)
Automation, Smart Manufacturing, i4.0, Laser manufacturing methods, Additive manufacturing, Advance finishing process, Hybrid micromachining, Numerical Modelling and Simulation, Laser micro machining,  Ultra precision system development