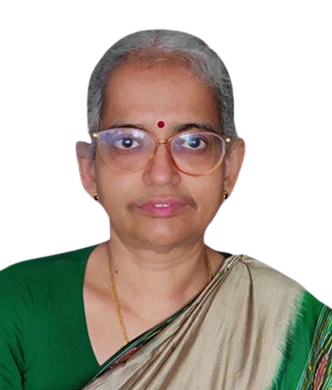 G. Bhuvaneswari
bhuvaneswari.gurumoorthy@mahindrauniversity.edu.in
Prof. G. Bhuvaneswari has been working as a Professor in Mahindra University's EEE Department since March 2021. Before this, she was working as a faculty member in the Indian Institute of Technology Delhi from August 1997 to March 2021. She graduated with a B.E. degree from College of Engg., Guindy, Anna University Madras in 1985 and with M.Tech. & Ph.D. degrees (in 1988 and 1992, respectively) from IIT Madras. After completing her Ph.D., she worked as a Lecturer in the Dept. of EEE, College of Engg, Guindy, Madras for over one year; then, she worked in the Electrical Utility Company ComEd, Chicago Illinois USA for about 3 years. After this, she returned to India to join IIT Delhi. Her areas of specialization are Power Electronics, Electrical Machines, Drives and all their application areas like power supply, power quality, HVDC, electric drives, electric vehicles, battery charging and renewable energy. She undertook sponsored and consultancy projects worth of Rs. 7 crores from various organizations like DRDO, DST, CSIR, MHRD, KVIC, BHEL and Copper-alliance. She has graduated 15 PhD students and 75 Master's students. She is a Fellow IEEE-USA, Institution of Engineering & Technology-UK, Institution of Engineers-India, Indian National Academy of Engineering, and IETE-India. She is the recipient of the IEEE Wanda-Reder Pioneer in Power Award in 2018, IEEE Outstanding Power Engineer Award from IEEE Delhi section in 2016 and Bimal K. Bose award from IETE in 2011. She was the founder coordinator of Sumant Sinha Renew Centre of Excellence in Energy and Environment in IIT Delhi from Dec 2016-April 2019. She had been playing an active role in IEEE Delhi section; she has been the Chair of IEEE PELS-IES Delhi Chapter during 2010-11 and 2018-19. Under her stewardship, this chapter received the Best Chapter Award in 2011 from the IEEE Headquarters. She is currently the Associate Editor of the IEEE Journal of Emerging and Selected Topics in Power Electronics, IEEE Journal of Emerging and Selected Topics in Industrial Electronics and the Transactions of the INAE. She has over 200 publications in National and International journals and peer-reviewed conferences.
| DEGREE | INSTITUTION | YEAR CONFERRED | ANY HONORS |
| --- | --- | --- | --- |
| Bachelor of Engineering (Electrical and Electronics Engineering) | College of Engineering, Anna University, Madras, India | 1985 | 85.1%; First class with Distinction; University Rank 2 |
| Master of Technology in Electrical Energy Systems | Indian institute of Technology, Madras, India | 1987 | CGPA 8.98 out of 10. Second in the M. Tech class |
| Doctor of Philosophy (Power Electronics and Drives) | Indian institute of Technology, Madras, India | 1992 | |
2021 till Date
From March 2021 till Date
Professor of Electrical and Electronics Engineering, Mahindra University, Hyderabad
1997-2021
From August 1997 to March 2021
Serving as a faculty member in the Department of Electrical Engineering, Indian Institute of Technology, Delhi. From Aug '97 to Oct'99 as a Lecturer; from Oct'99 to Oct'06 as Assistant Professor; from Oct'06 to Apr'11 as Associate Professor; from Apr 2011 onwards as a Professor. Note: HAG granted with effect from July 2019.
1994-1997
From June 1994 to January 1997
Worked as a Software Engineer in the electric utility industry, ComEd, in Chicago, USA.
1992-1993
From June 1992 to December 1993
Worked as a faculty member in the School of Electrical and Electronics Engineering, College of Engineering, Anna University, Madras, India.
1988-1992
From May 1988 to March 1992
Worked as a Senior Project Officer Grade II (SPO Gr.II) in the Centre for Industrial Consultancy and Sponsored Research, Indian Institute of Technology, Madras. The title of the project was 'Simulation of Power Electronic Circuits & Systems', sponsored by Department of Electronics (DOE), Government of India.
LIST OF SELECTED JOURNAL PAPERS IN THE LAST 2 YEARS:
2021
2020
2019
Power Electronic converters and circuits
Electrical Machines and drives: DC motors, induction motors, synchronous motors and special machines like PMBLDC Motors and SRMs.
Power quality and Power conditioning
Power supplies: SMPS and UPS
Shunt, series and hybrid power filters : Both active and passive
Power filtering algorithms and implementation using DSPs and microcontrollers
Renewable energy systems: Solar and wind
Microgrids
Electrical vehicle propulsion systems and battery charging
HVDC transmission and FACTS devices
Awards
Associate Editor of IEEE Journal of Emerging and selected topics in Industrial Electronics, IEEE Journal of Emerging and selected topics in Power Electronics and the Transactions of INAE from November 2019. AE of Journal of IE(I) from Aug 2014- March 2017.
Member, expert committee member to award energy efficiency rating of appliances in BEE.
Member, CSIR national level committee to examine travel and conference grants.
Institute Chair Professor (in IIT Delhi) from Jan 2019- March 2021.
Recipient of the 2018 IEEE Wanda Reder Pioneer in Power Award in August 2018 from IEEE PES.
Recipient of the Outstanding Engineer Award for the year 2016 from IEEE PES-IAS Delhi Chapter.
Recipient of Bimal Bose Award 2011 for significant contributions in Power Electronics from IETE, India.
ABB Chair Professor at IIT Delhi from Sept 2012 for a period of 2 years.
Recipient of Excellence in Teaching award at IIT Delhi in 2012 for being the best teacher in Jan – May 2012 semester.
Recipient of Best PhD Thesis Supervisor Awards from the (i) Foundation for Innovation and Technology Transfer (FITT), IIT, Delhi, (ii) Indian National Academy of Engineers (INAE) and (iii) IIT, Roorkee, for supervising the Ph.D. thesis entitled "Power Quality Improvement at AC mains in variable frequency Induction Motor Drives", 2007
Coordinator of Centre of Excellence in Renewable energy in IIT Delhi- a Centre hosted by M/s Renew Power- from December 2016-April 2019.
Member, DST expert committees for evaluating proposals for (i) Women Scientists scheme under and (ii) Scheme for Young Scientists and Technologists (SYST) (iii) SERB.
Member, committee constituted by the President of India for the Solar Power and Energy Sector Development under DST Govt. of India during 2014-2016.
Recipient of Indulkar Award in 2013 and Rajiv Bombawale award in 2012 for supervising the best BTech theses in IIT Delhi.
Member, Academic Councils in Sastra University, Thanjavur, Shiv Nadar University, Greater Noida, Amrita Vidya Peetham, Coimbatore & Kollam, Gayathri Vidya Parishad, Vishakhapatnam.
Appointed as the member of the governing council of the INAE representing Electrical Engineering Section (2021-2022).
Selected as a Regional Distinguished lecturer from R-10 in IEEE PELS (Power electronics society) from Sep 2020-Dec 2022.
Coordinator of the Gender unit in IIT Delhi in the years 2019 and 2020.