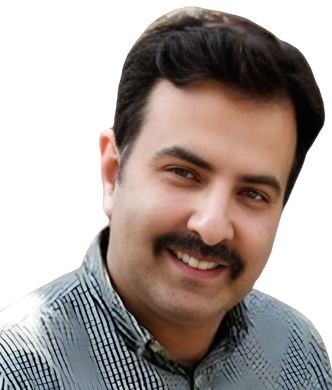 Abhinav Chaturvedi
abhinav.chaturvedi@mahindrauniversity.edu.in
Abhinav is a passionate young researcher, brings with him more than a decade of corporate work experience (Shoppers Stop, Titan Industries, Luxor Writing Instruments, Pearson Education, and CBSE) and a fellow from India's prestigious institution XLRI – Xavier School of Management, Jamshedpur. He has worked on a unique topic of Jugaad & Jugaad based Innovation, and has a keen eye for detail in the field of Innovation and Entrepreneurship. He is an author of a popular title on Customer Relationship Management – An Indian perspective a one of its kind books published back in 2005, now under revision. He can be called a promoter of the avant-garde.
2011-16
Fellowship in Management (FPM), 2011-16
XLRI- Xavier School of Management
Jamshedpur
2003-05
Postgraduate Diploma in Management, 2003-05
Amity Business School
Noida
2000-03
Bachelor of Commerce (Hons.), 2000-03
Delhi University
Delhi
ACADEMIC EXPERIENCE
Associate Professor July 2021 – December2021
Assistant Professor May 2017 – July 2021
Centre for Innovation and Entrepreneurship
BENNETT UNIVERSITY, Greater Noida
PROFESSIONAL EXPERIENCE
Co-Founder, Senior Marketing & PR Specialist August 2015 – May 2017
FUSIONICTION TECHNOLOGY LLP New Delhi
Manager Advocacy & Relationship October 2013 – June 2014 (On Contract)
CBSE CAER New Delhi
Marketing Manager December 2012- April 2013
ENCYCLOPAEDIA BRITANNICA New Delhi
Manager -Business Development June 2010- December 2012
PEARSON EDUCATION Noida
Business Manager March 2008 – June 2010
LUXOR WRITING INSTRUMENTS PVT. LTD. New Delhi
Manager – Store operations April 2006 – March 2008
TITAN INDUSTRIES LTD. New Delhi
Department Manager December 2004 – April 2006
SHOPPERS' STOP LTD. New Delhi
Book
2005
Chaturvedi, M., & Chaturvedi, A. (2005). Customer Relationship Management: An Indian Perspective. Excel Books.
Book Chapter
2022
Chaturvedi, A. (2022). Non-Western Perspectives on Innovation. Debating Innovation: The Power, Parleys, and Paradoxes of a Deified Concept, Palgrave Macmillan. (Upcoming Title)https://www.palgrave.com/gp/series/16112
2021
2019
Chaturvedi, M., & Chaturvedi, A. (2019). Choosing-the-Right-Institution-of-Higher-Education-Could-Really-Be-Tough! New Age Admissions Strategies in Business Schools, IGI Global, 150-169 https://www.igi-global.com/book/new-age-admissions-strategies-business/218589
Chaturvedi, M., & Chaturvedi, A. (2019). Maggi: A Tangled Case.Management Thought and Action – A Paradigm Shift, Khama Publishers , 27-40 https://books.google.co.in/books/about/Management_Thought_and_Action.html?id=gNp1zQEACAAJ&redir_esc=y
Journal Articles
2019
Verma, Priti, Chaturvedi, Abhinav, Arora, Nidhi. (2019). Women Entrepreneurs & Work-Life Balance: Intrinsic Challenges of Family Support, Stress, and Health. Journal of Advance Research in Dynamical & Control Systems, Vol. 11, 04-Special Issue, 2019
Chaturvedi, M. & Chaturvedi, A. (2019). The Old School. International Journal of Management Issues and Research, 7: 36-39
2014
Chaturvedi, A. (2014). Jugaad. International Journal of Management Issues and Research, 3(2), 4-8
2013
Chaturvedi, A. (2013). Bounded innovation an initial step for inclusivity in a low-income group and the poor. Business Markets Plus, 2(1), 67-73
Conference Presentations & Proceedings published
2021
"Author," "Presenter" on the symposium titled "Innovation in Global Entrepreneurship Education: Babson Collaborative and International Comparison" at the 81st Annual Meeting of the Academy of Management , 30 July - 3 August 2021. Submission No. 13331.
2019
Chaturvedi, Abhinav, & Rehn, Alf (2019) Colonizing Innovation: A case of Jugaad (Best Paper Award at Academy for Design Innovation Management Conference, London, 2019.)
The Concept of "Jugaad": Evidence from Innovations at the Bottom of the Pyramid in India, Academy of Business and Emerging Markets (ABEM) Conference, 2017, Santo Domingo, Dominican Republic, Caribbean Sea
2013
The Concept of Jugaad, 2nd Conference of Marketing Scholars and Practitioners (CMSP-2013), Apeejay School of Management
Newspaper Articles
2021
Areas of Research Interest
Entrepreneurship and Entrepreneurship Education
Innovation and New Product Development in Emerging Nations
Design Studies