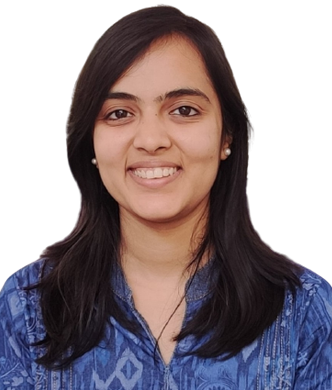 Nidhi Goyal
Assistant Professor
nidhi.goyal@mahindrauniversity.edu.in
Ms. Nidhi Goyal is Assistant professor in the Department of CSE at Ecole Centrale School of Engineering. She is currently pursuing her Ph.D (CSE) from IIIT-Delhi (close to thesis submission). She is advised by Prof. Ponnurangam Kumaraguru (PreCog, IIIT-H), Dr. Raghava Mutharaju (KRaCR, IIIT-Delhi) and Dr. Niharika Sachdeva from InfoEdge India Limited. She has received the prestigious Prime Minister Fellowship for Doctoral Research (PMRF-DR) while working in collaboration with Naukri.com. She is a recipient of ACM India Anveshan Setu Fellowship during her PhD.
She has served as PC Member for many top-tier conferences such as CIKM, TheWebConf2023-Companion, and SEMREC; reviewer for DASFAA, ICANN, and PeerJ ; sub reviewer for AAAI, WWW, CODS-COMAD, ESWC, ICWSM, ICKG, ISI. She has received many travel grants (Microsoft Research Travel Grant for EACL, ACML, CODS-COMAD, ACM SIGWEB, ISWC, IndoML) during her PhD for conference travels.
2018-2023
Ph.D. in Computer Science, IIIT-Delhi (close to submission) from 2018 to 2023
2014-2016
Masters in Computer Science (M.Tech), GJUST from 2014 to 2016
2010-2014
Bachelors in Information Technology (B.Tech), GJUST from 2010 to 2014
2016-2018
She has prior teaching experience as an Assistant professor at Guru Gobind Singh Indraprastha university (GGSIPU), New Delhi and Dronacharya College of Engineering (DCE), Gurgaon (2016-2018). She has been teaching assistant for Online Privacy Course, Natural Language Processing for PGDDS&AI, Foundations to Computer Security, Privacy and Security in Online Social Media, Designing Human-Centred Systems, NPTEL, Designing Human-Centred Systems, and Computer Organisation and Operating Systems. She has also served as an Industry Expert for Third-year Data Science and AIML specialization students at NorthCap University, Gurgaon.
2023
Goyal, N., Kalra, J., Sharma, C., Mutharaju, R., Sachdeva, N., and Kumaraguru, P. JobXMLC: EXtreme Multi-Label Classification of Job Skills with Graph Neural Networks. Accepted at Findings of the Association for Computational Linguistics: EACL 2023.
Goyal, N., Mamidi, R., Sachdeva,N., and Kumaraguru, P. Warning: It's a scam!! Towards understanding the Employment Scams using Knowledge Graphs. Accepted at ACM India Joint International Conference on Data Science and Management of Data (CoDS-COMAD 2023) YRS track. Bombay, Jan 4 - 7, 2023
2022
Goyal, N.*, Arora, U.*, Goel, A., Sachdeva,N., Kumaraguru, P. Ask It Right! Identifying Low-Quality questions on Community Question Answering Services . In Proceedings of International Joint Conference on Neural Networks (IJCNN-2022), July 19 - July 23, Padua,Italy
2021
Goyal, N., Sachdeva, N., Goel, A., Kalra, J., and Kumaraguru, P. KCNet: Kernel-based Canonicalization Network for entities in Recruitment Domain. In 30th International Conference on Artificial Neural Networks (ICANN). 2021.
2019
Goyal, N., Sachdeva N., Choudhary V., Kar R., Kumaraguru P., and Rajput N. Con2KG-A Large-scale Domain-Specific Knowledge Graph. In Proceedings of the 30th ACM Conference on Hypertext and Social Media, pp. 287-288. 2019.
Natural Language Processing (NLP), Machine learning (ML), Deep learning (DL), Information Extraction (IE), Entity Normalization, Knowledge Graphs (KGs) construction, Ontology, and Knowledge Graph representations (KR).
Her PhD research focused on devising novel frameworks for content quality detection (low, ambiguous, fraud, fake content) on online professional networks and using AI for enterprise, specifically towards real-world applications in recruitment domain.