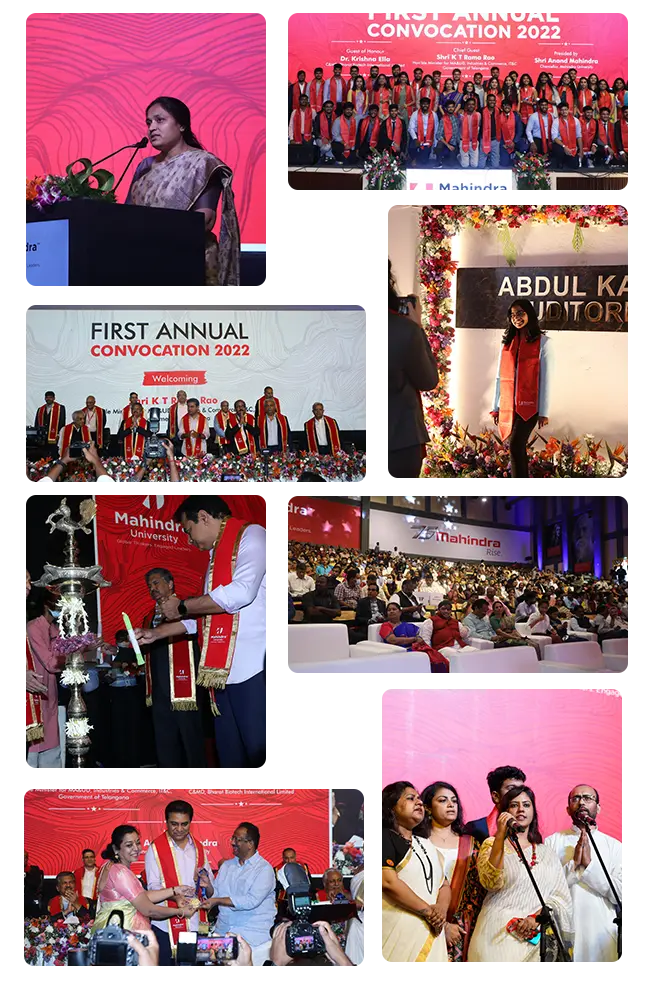 Mahindra University, India's premier institution for multidisciplinary education, held its 1st Annual Convocation on 23rd July 2022 at the Mahindra University Campus. The degrees to the Bachelor of Technology (BTech) graduates from 2016, 2017 and 2018 of around 800+ students were conferred on that day.
The Chief Guest, KT Rama Rao, delivered the Convocation Address, Minister, Government of Telangana, in a ceremony presided over by Anand Mahindra Chancellor, Mahindra University, in the presence of the Guest of Honor Dr Krishna Ella, Chairman, Bharat Biotech International and other dignitaries.
While conferring the degrees, Shri K.T Rama Rao that, "We are very close to the cherished milestone of 75 years of Independence of our glorious nation, and these milestones are occasions when we have to think about our future." Further, MU Chancellor Anand Mahindra added, "The university is committed to the synergistic working of all its constituent institutions. An interdisciplinary education will help accelerate the trend towards 'whole-brain' thinking, which integrates both the sciences and humanities.
The Convocation also had the inauguration of MU's state of art X-Ray Diffraction Facility, which would facilitate research and development across molecular science. In addition, the state-of-the-art Lecture Hall Complex, with a total capacity of 500 students, was also inaugurated.
The students and the parents thoroughly enjoyed the ceremony, with many pictures were taken around the green campus. The fountain and the photo- booth were a great attraction for the photo takers and students.