Engineering Education 4.0 Lasers, Optics & Photonics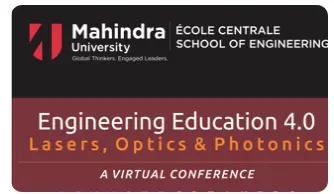 This conference "Engineering Education 4.0: Lasers, Optics and Photonics" has been planned to emphasize and share with the audience a need for including appropriate topics in these areas in engineering education as many of the technologies talked about in Industrial Revolution 4.0 would exploit laser-based optics and photonics technologies.
Several high-profile scientists from around the globe have agreed to share their expertise and knowledge in these contemporary technologies as well as fundamental science that underpins these technologies.
The newly notified Mahindra University proudly announces this virtual conference to present a bouquet of state-of-the-art lectures as a pre-launch event before its formal launch as a research university on 24th July 2020.