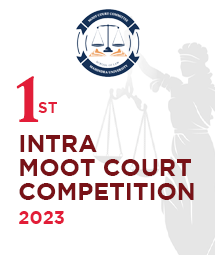 Mahindra University's Moot Court Committee successfully hosted its first-ever Intra Moot Court Competition on the issues pertaining to Constitutional and Environmental Law at the School of Law, Mahindra university campus. The competition was an offline event, which saw enthusiastic participation from students of the School of Law and other schools of the university.
The competition was judged by a panel of experienced legal professionals, including Mr. Tariq Khan, Registrar IAMC, Prof. Siddharth Chouhan, NALSAR, and Advocate Manav Thomas, Name partner Thomas George and Associates. The judges provided valuable feedback and insights to the participants, helping them to improve their legal skills and gain practical experience in a simulated court environment. Dean, School of Law, Professor Dr. Sridhar Acharyulu and Registrar Retd. Colonel Rajive Chauhan graced the event with their esteemed presence.
The participants were required to present their arguments and legal reasoning on a hypothetical case, which was based on a contemporary legal issue. The competition provided students with an opportunity to showcase their analytical and persuasive skills, as well as their ability to think on their feet and respond to challenging questions from the judges.
The Moot Court Committee of Mahindra University comprising of student members, headed by Professor Aparna Singh and Professor Darshna Gupta expressed their satisfaction and appreciation on the successful completion of the competition, and congratulated the winners and all participants for their hard work and dedication. The winners of the event are Abhinav Pochampally, Snikitha Jampani and Koumudi Balla.
The event served as an excellent platform for the students to develop their legal skills and gain practical experience, and the committee looks forward to hosting similar events in the future.