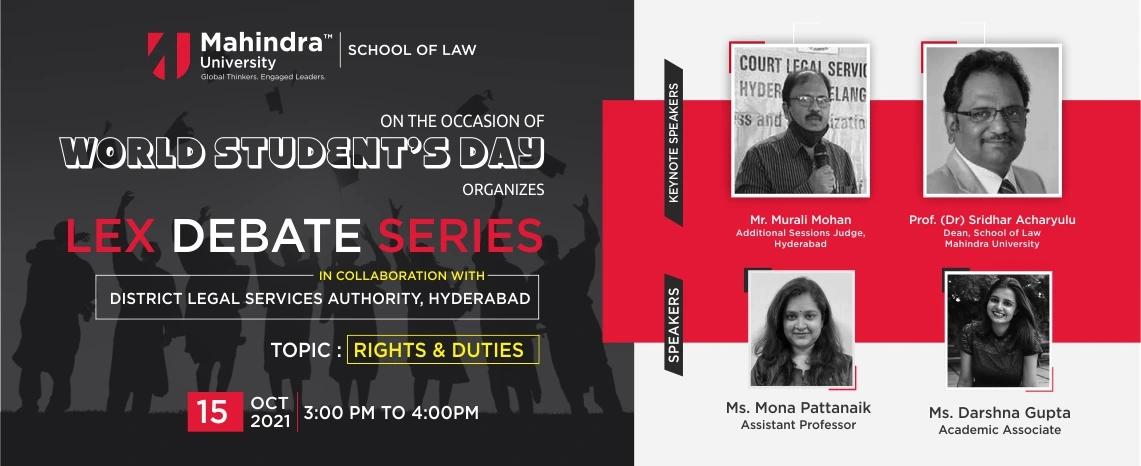 The School of law on the occasion of "World Student's Day" on 15th October, 2021 organised Lex Debate Series in collaboration with District Legal Service Authority, Hyderabad on the topic: Rights & Duties. The Debate commenced with an introductory address by Ms. Aparna Singh, Faculty at School of Law, Mahindra University, followed by dialogues of Ms. Darshna Gupta and Ms. Mona Pattanaik, faculty at School of Law. After that, Professor Sridhar Acharyulu, Dean at the School of Law, Mahindra University, delivered his speech on Rights and Duties. And later, the session was headed by Sri Murali Mohan, Senior Judge, City Civil Court, Hyderabad.
Ms. Darshna Gupta, faculty of Law, said right and duty are the pillars of law and are protected and enforced by law. No discourse is possible on any legal topic without stressing the rights and duties of the individual. Rights and Duties are two fundamental principles without which it is impossible to comprehend the concept of law. The distinction between these two is in the penalty that underpins them. The state redresses a violation of a legal right, whereas moral rights are based only on ethical and societal disapproval.
Further, Ms. Mona Pattanaik spoke that the constitutional goal is not only confined to building a solid and permanent Nation. It also strives to ensure that the citizens are intellectually superior. Scientific temper, humanism, and inquiry spirit are fundamental to individual development. The spirit of inquiry and reform will lead to wholesome social reformation and positive changes. Today's youth should remember to strive towards excellence in all spheres of individual and collective activity so that the nation constantly rises to higher levels of endeavour and achievement.
After that, Professor Sridhar Acharyulu graciously introduced Justice Murli Mohan to the audience while praising him for his sincerity, honesty and commitment to human rights. Highlighting the significance of the day, i.e., World Student's Day to mark the birthday of A.P.J Abdul Kalam's, Prof. Acharyulu inspired the students to aim high and serve the society like our former President.