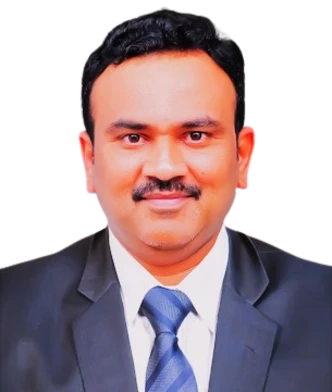 Aruna Kumar Chelluboyina
Assistant Professor
arunakumar.c@mahindrauniversity.edu.in
Aruna Kumar Chelluboyina, PhD, is as an Assistant Professor in Center for Lifesciences at Mahindra University, Hyderabad. He obtained his Ph.D. in Biotechnology from Indian Institute of Technology Madras, Chennai in 2016. Post-Ph.D., he completed his postdoctoral training from 2017 to 2023 at three different eminent research institutes in USA – Harvard Medical School, Cleveland Clinic and Case Western Reserve University.
His background in research covers broad area of translational molecular biology in human diseases. His research expertise includes molecular signaling in human cancers, gene editing and advanced gene therapy approaches for molecular intervention in various human diseases. His research work has been published in high impact journals, and he is a passionate teacher.
2011-2016
PhD in Biotechnology from Indian Institute of Technology Madras, Chennai (2011-16).
2007-2009
Masters

in Medical Biotechnology from University of Hyderabad, Hyderabad (2007-09).
2003-2005
Masters

in Biochemistry from Andhra University, Vishakhapatnam (2003-05).
2000-2003
Bachelors

in Biology from Andhra University, Vishakhapatnam (2000-03).
2022
Postdoctoral Research Fellow, 2022-23, Grousbeck Gene Therapy Center, Mass Eye and Ear, Department of Ophthalmology, Harvard University, USA.
2021-2022
Postdoctoral Research Fellow, 2021-22, Department of Inflammation and Immunity, Lerner Research Institute, Cleveland Clinic, USA.
2017-2020
Postdoctoral Research Associate, 2017-20, Case Comprehensive Cancer Center, Case Western Reserve University, USA.
2016-2017
Research Associate, 2016-17, Department of Biotechnology, Indian Institute of Technology Madras, Chennai.
2009-11
Scientist, 2009-11, Ventura Institute of Biosciences, Hyderabad.
2005-2007
Lecturer in Biochemistry, 2005-2007, Adithya Group of Institutions, Rajahmundry, Andhra Pradesh.
2023
Mishra, S., Welch, N., Karthikeyan, M., Bellar, A., Musich, R., Singh, S. S., Zhang, D., Sekar, J., Attaway, A., Chelluboyina, A., Lorkowski, S. W., Roychowdhary, S., Li, L., Willard, B., Smith, J. D., Hoppel, C., Vachharajani, V., Kumar, A., & Dasarathy, S. (2023). Dysregulated cellular redox status during hyperammonemia causes mitochondrial dysfunction and senescence by inhibiting sirtuin-mediated deacetylation. Aging Cell, 00, e13852.
2022
Nicole Welch*, Shashi Shekhar Singh *, Ryan Musich, M Shahid Mansuri, Annette Bellar, Saurabh Mishra, Aruna K Chelluboyina, Jinendiran Sakar, Amy H Attaway, Ling Li, Belinda Willard, Troy A Hornberger, Srinivasan Dasarathy. Shared and unique phosphoproteomics responses in skeletal muscle from exercise models and in hyperammonemic myotubes. IScience, Oct 2022. DOI: 10.1016/j.isci.2022.105325.
2021
Avinash Kumar, Nicole Welch, Saurabh Mishra, Annette Bellar, Rafaella Silva Nasciemento, Ling Li, Shashi Shekhar Singh, Mary Sharkoff, Alexis Kerr, Aruna Kumar Chelluboyina, Jinendiran Sekar, Amy H. Attaway, Charles Hoppel, Belinda Willard, Gangarao Davuluri, Srinivasan Dasarathy. Metabolic reprogramming during hyperammonemia targets mitochondrial function and postmitotic senescence. JCI Insight. 2021 Dec 22;6(24): e154089.
Nicole Welch, Shashi Shekhar Singh, Avinash Kumar, Saugato Rahman Dhruba, Saurabh Mishra, Jinendiran Sekar, Annette Bellar, Amy H. Attaway, Aruna Chelluboyina, Belinda B. Willard, Ling Li, Zhiguang Huo, Sadashiva S. Karnik, Karyn Esser, Michelle S. Longworth, Yatrik M. Shah, Gangarao Davuluri, Ranadip Pal, Srinivasan Dasarathy. Integrated multiomics analysis identifies molecular landscape perturbations during hyperammonemia in skeletal muscle and myotubes. Journal of Biological Chemistry, Volume 297, Issue 3, 2021.
Rahul Kanumuri*, Aruna Kumar Chelluboyina*, Jayashree B, Vignesh, Jaishree, Akkanapally Venu, Vaishnavi, Leena, Jayakanthan, Kumaresan, Gopal Krishna Aradhyam, Ganesh Venkatraman and Suresh Kumar Rayala (2021). 'Small Peptide Inhibitor from the sequence of RUNX3 disrupts PAK1-RUNX3 interaction and abrogates its phosphorylation dependent oncogenic function'. Oncogene, 12 July 2021. (*Co-first author).
2019
Blum AE*, Venkitachalam S*, Ravillah D*, Chelluboyina AK*, Kieber-Emmons AM, Ravi L, Kresak A, Chandar AK, Markowitz SD, Canto MI, Wang JS, Shaheen NJ, Guo, Shyr Y, Willis JE, Chak A, Varadan V, Guda K. Systems Biology Analyses Show Hyperactivation of Transforming Growth Factor-β and JNK Signaling Pathways in Esophageal Cancer. Gastroenterology. 2019 May 1761-1774. (*Co-First Author) (Cover page article).
2017
A Kumar, Sundaram S, Rayala SK, Venkatraman G. (2017) UnPAKing RUNX3 functions - Both sides of the coin. Small GTPases, 2019 Jul;10(4):264-270.
2016
A Kumar, M Singhal, C Chopra, S Srinivasan, RP Surabhi, R Kanumuri, S Tentu, S Jagadeeshan, S Sundaram, K Ramanathan, R Shankar Pitani, B Muthuswamy, S Abhijit, AS Nair, G Venkatraman and SK Rayala. (2016) Threonine 209 phosphorylation on RUNX3 by Pak1 is a molecular switch for its dualistic functions. Oncogene, 2016 Sep 15;35(37):4857-65.
2015
Akila Kesavan, P Ilaiyaraja, W Sofi Beaula, Vuttaradhi Veena Kumari, J Sugin Lal, Chelluboyina Arun Kumar, G Anjana, Satish Srinivas, Anita Ramesh, Suresh Kumar Rayala, D Ponraju, Ganesh Venkatraman. (2015) Tumor targeting using polyamidoamine dendrimer– cisplatin nanoparticles functionalized with diglycolamic acid and herceptin. European Journal of Pharmaceutics and Biopharmaceutics, 96. 255–263.
Molecular Signaling
The onset and progression of the disease in cancers is caused by certain molecular drivers. Using recently advanced methods like CRISPR screening and other whole-genome targeted approaches in appropriate disease models, we aim to delineate the driver genes and explore the potential of identified candidates as biomarkers and targets for therapeutic intervention and change the overall outcome of the disease.
Gene Editing and Gene Therapy
Gene therapy treatments combined with latest cutting-edge genome editing technologies like CRISPR are being developed by scientists to prevent and treat diseases in humans. Recently developed advanced genome editing technologies have the potential to cure many human diseases with genetic basis. Lately, FDA has approved gene therapy-based drugs for hereditary diseases like Spinal Muscular Atrophy, IRDs etc. Here, we aim to develop and optimize adeno-associated viral vector (AAV)-based gene therapies based on the needs of certain types of inherited genetic disorders and cancers.