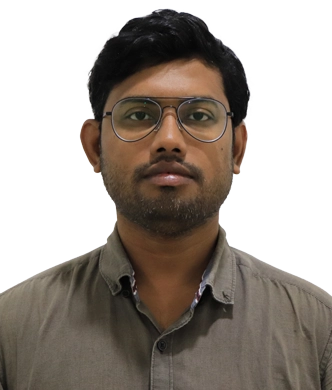 Jyotirmay Das
Assistant Professor
jyotirmay.das@mahindrauniversity.edu.in
Dr. Jyotirmay Das teaches Media and Cultural Studies at the School of Media, Mahindra University Hyderabad. Before joining the academia, he worked as a development communication professional for almost seven years in various parts of India. He also manages a YouTube channel with over 11K subscribers (http://www.youtube.com/c/jajaboreeproductions).
He obtained his Ph.D. from the Indian Institute of Technology (IIT) Delhi in Humanities and Social Sciences. His Ph.D. dissertation dealt with the politics of organising, performing, and communicating traditional performances in the Goalpara Region of Assam, India.
Jyotirmay has attended many certificate and diploma courses. Important among them are the Screenwriting and Filmmaking Course: Imaging Cinema at the Indian Institute of Technology Madras in 2012 and the Theatre Appreciation Course at the National School of Drama, Delhi in 2019. He has attended Global Initiative of Academic Networks (GIAN) courses at IIT Delhi from 2017 to 2018. These courses include the Critical Philosophy of Race; Religion, Democracy, and Violence; Truth, Knowledge, and Capitalism in the Anthropocene; and The Psychology of Groups. He attended two Winter Schools organised by the University of Groningen (The Netherlands), Frobenius Institute, Goethe University of Frankfurt (Germany), and IIT Delhi (India)– Changing Grounds: Dynamics of Culture and Livelihood; and Performing Religion: Theory and Practice in 2019 and 2020, respectively. He also served as a Teaching Assistant for a SWAYAM-NPTEL Course on Text, Textuality, and Digital Media conducted by IIT Delhi in 2019 and 2021, respectively.
Jyotirmay's research interests include the society and culture of Western Assam, traditional theatre and performance, and community media.
Ph.D.
Ph.D. in Humanities and Social Sciences from Indian Institute of Technology (IIT)-Delhi
UGC NET JRF
UGC NET JRF in Mass Communication and Journalism
Masters
Masters in Media and Cultural Studies from Tata Institute of Social Sciences (TISS)-Mumbai
Bachelors
Bachelors in English Honours from Hindu College, Delhi University
Before joining his present position at the Mahindra University Hyderabad, Dr. Jyotirmay Das briefly worked as an Assistant Professor at the Manipal University Jaipur in 2023 and as a Research Assistant at the Industrial Research and Development Unit- IIT Delhi in 2022. He worked as a Development Communication Professional in the Social Sector from 2010 to 2017. He was associated with the Centre for Alternative Dalit Media, National Confederation of Dalit and Adivasi Organisations- Delhi; Society for Labour and Development- Delhi; Seven Sisters Development Assistance- Bongaigaon (Assam); National Institute of Rural Development and Panchayati Raj, North East Regional Centre- Guwahati; and South Asia Consortium for Interdisciplinary Water Resources Studies- Hyderabad during those seven years. Jyotirmay currently manages a YouTube channel called Jajaboree Productions as a nostalgic remnant of a media production startup he founded in 2012.
Publications
Papers submitted for publication to the Asian Theatre Journal, Indian Theatre Journal, and Man and Society: Journal of North East Studies are under review.
Dr. Jyotirmay Das conducted his PhD Research on the Traditional Performances of the Goalpara Region in Assam at IIT Delhi from 2017 to 2022. After submitting his PhD Thesis in 2022, he assisted the Industrial Research and Development Unit, IIT Delhi, in a project for Data Annotation: Optical Character and Hand-Written Text Recognition for Indian Languages (Assamese). In 2016, he conducted two critical research on water safety and security. The first was in the form of a Communication Strategy for Accessing Safe Drinking Water in Kochari Gaon and Potiya Gaon in Melamati Village Panchayat, Titabor Block, Jorhat-Assam. The second research culminated in a documentary film on the water usage of the Musi river in Hyderabad, Telangana. The latter was shortlisted at the 'We Art Water' Film Festival in Madrid, Spain. In 2012, Jyotirmay carried out a Short Impact Study of the Promotion of the System of Rice Intensification (SRI) in the Lower Assam Area. In 2013, he undertook a Photography Assignment on the Poi Sangken festival of the Tai Buddhist communities of the Bhitar Kalioni Monastery in Karbi Anglong, Assam. In 2012, he assisted freelance and BBC-Hindi correspondents during the communal conflict in Western Assam. From 2010 to 2012, Jyotirmay conducted numerous Corporate Social Responsibility research and projects for Bongaigaon Refinery, Indian Oil Corporation Limited. He is presently working on Community Media.