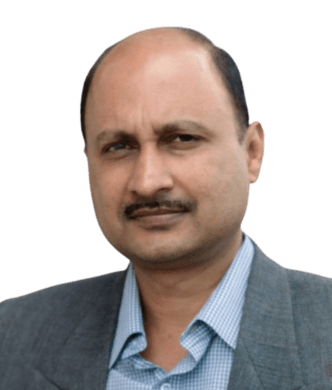 Pramod Mantravadi
pramod.mantravadi@mahindrauniversity.edu.in
Dr Pramod Mantravadi has overall experience of 32 years in industry and academics. He is currently Professor and Head – Centre for Executive Education at Mahindra University.
He was previously, Director – Executive Education at the Indian School of Business, Hyderabad, for 13 years. He was also a member of the Management Group of ISB. He played a key role in growing the Executive Education at ISB, to market leadership position among B-schools in India.
He had also worked earlier with ICFAI Business School, Hyderabad as Associate Professor of Finance, and as a visiting faculty at NALSAR University and NICMAR.
He was also an independent consultant in the area of Executive Education, advising Business Schools and other start-up firms in Executive Education India.
Prior to joining academics, he had worked in the Indian industry for 10 years, in various functional areas at senior management positions. He had also worked in USA for two years, as Project Manager and e-business Consultant in the software industry.
2008
Ph.D (Finance), BITS, PILANI, Feb 2008
1994
CFA, ICFAI Hyderabad, 1994
1987-89
PGDM (Finance & Marketing) – IIM Calcutta, 1987-89
1983-87
B.E. (Mech Engg) – University College of Engineering, Osmania University, Hyderabad, 1983-87
2019
21, ICFAI Business School
2017 - 19
Independent Consultant in Executive Education
2004 - 16
Indian School of Business
Journal Publications
2020
Does Time-Period of Occurrence, or Firm-Relatedness, Impact Operating Performance of Acquiring Firms Differently? Evidence from Mergers in the New Millennium in Indian Industry, Open Journal of Business and Management, December, 2020
Does Merger Type or Industry Affect Operating Performance of Acquiring Firms? A Long-Term Merger Performance Study in India,Theoretical Economics Letters, June 2020
2007
Relative Size in Mergers and Operating Performance: Indian Experience, DrPramod Mantravadi & Dr A. Vidyadhar Reddy, Economic and Political Weekly, September 29, 2007
Mergers and Operating Performance: Indian Experience, Dr Pramod Mantravadi & Dr A. Vidyadhar Reddy, The Icfai Journal of Mergers & Acquisitions, Vol. 4, No. 4, pp. 52-66, December 2007
2008
Type of Merger and Impact on Operating Performance: The Indian Experience, Dr Pramod Mantravadi & Dr A. Vidyadhar Reddy, Economic & Political Weekly, September 27, 2008
Post-Merger Performance of Acquiring Firms from Different Industries in India, DrPramod Mantravadi & Dr A. Vidyadhar Reddy, International Research Journal of Finance and Economics, No. 22, 2008
Edited Books:
2001
Corporate Restructuring: Concepts and Cases, ICFAI Books, ICFAI University, 2001
E-marketing: Emerging Trends, ICFAI Books, ICFAI University, 2001
E-Finance - Vol. I, ICFAI Books, ICFAI University August, 2001
Case Studies on Consumer Durables companies, ICFAI Books, ICFAI University, 2001
2002
E-business - Organizing For Success, ICFAI Books, ICFAI University, 2002
ERP- Concepts and Cases, ICFAI Books, ICFAI University, December 2002
IT-Enabled Services - Vol. Iand Vol. II, ICFAI Books, ICFAI University, 2002
Project Management ( Volumes I to V,ICFAI Books, ICFAI University, 2002
Case Studies in e-tailing: Volume I and Volume II, ICFAI Books, ICFAI University, 2002
IT Infrastructure – Case Studies, ICFAI Books, ICFAI University, 2002
Software and Services- Case Studies, ICFAI Books, ICFAI University, 2002
Automobile Industry: Case Studies, ICFAI Books, ICFAI University, 2002
2003
Competitive Intelligence- Concepts and Cases,ICFAI Books, ICFAI University, 2003
E-Finance - Vol. II,ICFAI Books, ICFAI University, June 2003
E-Procurement - Concepts and Cases,ICFAI Books, ICFAI University, 2003
2004
Value at Risk: concepts and cases, ICFAI Books, ICFAI University, 2004
e- Healthcare: concepts and Cases, ICFAI Books, ICFAI University, 2004
Magazine Articles
2002
Cross Border E-commerce: Emerging trends and challenges, (Co-authored with Nagendra V Choudhry), published in "E-Commerce Magazine", January 2002
Online Trading in India: Emerging Trends(Co-authored with Nitin Mehrotra), published in "Portfolio Organiser", August 2002
2003
Impact of Internet Technologies on the Banking and Financial Services Industry, published in "Sister Nivedita Journal of Management", October 2003
2005
E-Procurement: Issues and Trends, published in 'Enterprise Software - An Introduction'", ICFAI Books, ICFAI University, 2005
2006
E-Tailing: Issues and Perspectives, (Co-authored with Nitin Mehrotra), published in "Web Marketing : Trends and Cases", ICFAI Books, ICFAI University, 2006
2009
Online Trade Finance: Future Prospects, (Co-authored with Aparna Bellur), published in "Global Exports: An Overview", ICFAI Books, ICFAI University, 2009