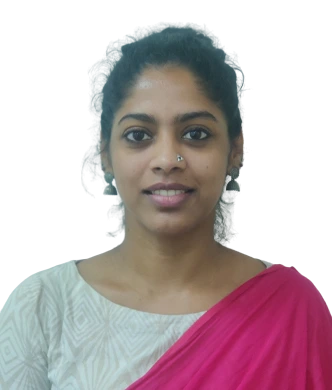 Mizaj K. V.
mizaj.kv@mahindrauniversity.edu.in
She is an Assistant Professor of Psychology at School of Education in Mahindra University, Hyderabad. Grounded in the discipline of psychology (with a PhD in Psychology from Jawaharlal Nehru University, New Delhi) and trained in the area of education, she brings in her understanding of being and self into understanding curriculum and pedagogy. Her previous engagements have centered around designing and implementing educational plans for children and adolescents with special needs, as well as designing bridge curriculum for children rehabilitated from the streets. Her involvement with the Department of Education for Groups with Special Needs at NCERT, New Delhi, to create a handbook for teachers to guide with a reading series for all was an extension of this effort to integrate theory and practice. As part of her doctoral research work she has expanded her knowledge horizons to explore the lived experiences of women and how psychological resilience as a developmental process enriches their selfhood.
Her research areas include psychological resilience, gender and development, ageing, and cultural psychology. She is also keen on working with advanced qualitative research methodologies like phenomenological psychology to understand the spatiality, temporality and corporeality of everyday lived experiences.
PhD
PhD in Psychology from Zakir Husain Centre for Educational Studies, Jawaharlal Nehru University (JNU), New DelhiPhD thesis titled "Resilience as a developmental process among Mappila women in the matrilineal community in Kerala: A Phenomenological Inquiry" under the supervision of Prof. Minati Panda, ZHCES, JNU.
MA
MA in Applied Psychology, University of Delhi, New Delhi, India
2018
Senior Research Associate at National Council for Educational Research and Training (NCERT), New Delhi (2018):as a member of the MHRD SSA (PAB) project titled "Developing Handbook for Learning to Read in inclusive setting based on 'Barkhaa: Reading Series for All'" –
2013-2014
Classroom Leader at Step by Step Center for Special Needs, Doha, Qatar (2013-2014): involved in developing, managing and implementing Individual Education Plans (IEPs) for children with special needs and developmental challenges; engaging in and facilitating movement therapy and play sessions; working on assistive technology
2011- 2012
Resident Psychologist at Mukkam Girls Orphanage, Calicut, Kerala, India (2011- 2012)
2022
Mizaj K.V, (2022), Lived Body in Phenomenology: A Fragment of Lifeworld for a Woman, International Journal of Cultural Studies and Social Sciences, XIV (XVII) (ISSN 2347-4777), 87-93.
Phenomenological inquiry on psychological resilience as a developmental process among widowed Mappila Women
Ethnographic study on experiences of widowhood and ageing at ashrams in Vrindavan and Mathura, as part of Autumn School on Ageing and Gender by Prof. William Sax of Heidelberg University, Germany (2018)
Member of the Intervention for children with learning difficulty living in the slum area in New Delhi, conducted by the Department of Applied Psychology, University of Delhi (2010- 2011)
Member of 'Service Learning', a joint venture between United Board for Christian Higher Education in Asia (UBCHEA) and Union Christian College, Aluva, in conducting a survey research on the correlation and effect of alcohol consumption and quality of life of residents of a settlement colony in Aluva, Kerala (2006 – 2007)
Others
Projects:
Member of UGC-DAAD sponsored collaborative project on 'New Directions in "Active Ageing" and "Age-friendly Culture" in India and Germany', a collaborative project between University of Heidelberg and Jawaharlal Nehru University to understand the cultural context of aging in India and Germany, and to work on the New Directions in 'Active Ageing' and 'Agefriendly-Culture'; from Oct 2016 till Feb 2020
Circle-of-Support Transnational Programme, a UGC-DAAD project on "community – based micro networks of inclusion and empowerment for people with autism", between Dortmund University, Germany and University of Delhi, India from Oct 2010 till August 2011