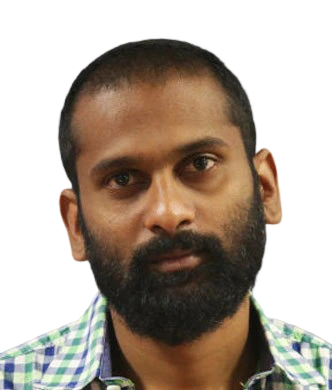 Raj Narayanan
raj.narayanan@mahindrauniversity.edu.in
Mr. Raj Narayanan is an Academic Associate in the Design Thinking Department. Mr. Raj did his M. Des in Visual Design from IIT Hyderabad. Prior to joining MU, He worked as a User Experience Designer at My Medicare Pvt. Ltd.
M.Des
M.Des (Visual Design), IIT Hyderabad
Interests: Collaborative Design, Design Methods, Form Explorations, Semiotics, Physical Interactions
B. Tech
B Tech (Mechanical Stream-Industrial Engineering), College of Engineering, Thiruvananthapuram
Subjects: Methods and Systems Design, System Modeling and Simulation, Facility, Planning, Heuristics
User Experience Designer, My Medicare Private Ltd. Since 13th August 2018
Centre for Management Development
Project: Manpower Assessment and Review of Organizational Structure in the factory of HLL Lifecare Ltd.