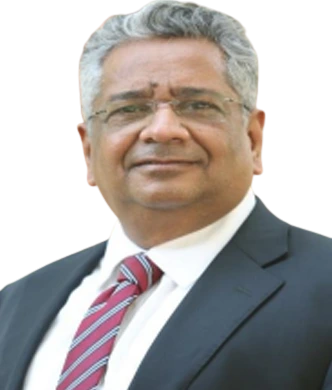 Rajeshwar Upadhyaya
Visiting Faculty, Centre for Executive Education
Rajeshwar is a visiting faculty in Executive Education at Mahindra University. He is currently the Dean of Academy of Applied Emotional Intelligence (AAEI) an organization that drives transformational learning and is based out of Mumbai (India). He has also been a visiting faculty in Executive Education at ISB, KAIST, LBSNAA, SVPNPA, NAIR, IIPA, NISA. Rajeshwar has over 28 years of industry and consulting experience.
He has consulted for business housesin India, South East Asia, and the USA. He has taught over 48,000 executives across Government, Public Sector, Private Sector. Participants in his programmes included executives from ESADE Business School, EADA, Spain, ESTM, Germany and RSM, Erasmus University. He also taught at School of Finance and Management, Oxford Brooks University, UK, Thunderbird, USA and SKOLKOVO Moscow Institute of Management, Russia
He has taught executives from an array of industries including Manufacturing, Infrastructure, Nonbanking Financial Services, Bank, Automobiles, Market Research, Pharmaceuticals, PR, Oil & Gas, Steel, Telecom, Shipping, Media & Entertainment, FMCG, Academia, etc. having engaged with more than 140 organizations. Rajeshwar teaches the Global Leadership Immersion Program at the Korean Advanced Institute of Science and Technology (KAIST), Seoul, South Korea to senior corporate executives with a focus on 'Leadership Skills for Doing Successful Business with India'.
He is a Leadership Speaker at various national and international forums and conferences including The London Speaker Bureau, India Literary Festivals and IQPC, Singapore. Rajeshwar is an author of two books and numerous articles. A third book "Insights from the Tragedies of Shakespeare – Exploring the Psychology of Leadership Failure" is underway.
Rajeshwar has an MBA with a specialization in International Management from Thunderbird, The American Graduate School of International Management, AZ, USA. He is also certified in various globally recognized psychometric and coaching tools like MHS EQI; Pearman; Pearman Flex, Big Five Personality Factors (Comprehensive Suite), Hardiness Resilience Tool, Risk Type Compass Profile, Hogan Challenges/ Motivations Preferences/ Potential; FIRO-B and FIRO-Business; MBTI Step I and Step II; DISC; ESQ, Leadership Tracker (Derailment Propensity Inventory), etc. He is also a Zig Ziglar Certified Trainer.