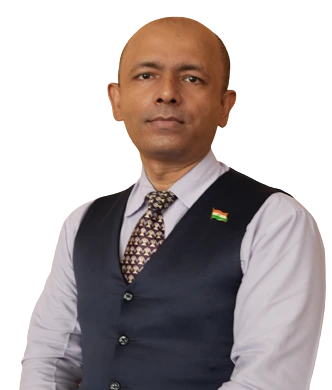 Rishi Raj Bhardwaj
rishiraj.bhardwaj@mahindrauniversity.edu.in
He is a perseverant person, with humble origins, who resiliently believes in the philosophy Being The Change, Which One Wishes To See. He has 15+ years of versatile experience in various senior positions of academic, managerial and administrative capacities at several Delhi-NCR based universities like Sharda, AKTU, CCSU, Bennett etc. Along with his 10+ years association with ICAI, IGNOU, IICA and ISM-India; he has worked with some reputed CA firms, based in Delhi and Rajkot. His major assignments had been in financial and statutory compliance audits of PSUs like AAI, BHEL, DMRC, GAIL, SAIL, ISRO, MTNL SBI, LIC etc. He has also served as a policy advisor to MSMEs and Startup Units in Delhi-NCR.
His multifaceted academic journey commenced with Commerce and Law Graduations from Saurashtra University, Rajkot; and gradually culminated into PGs in Commerce, Law, Finance & IT. Qualifying UGC-NET & CA-PEE-II from ICAI, he has earned his certifications from Cornell University in 'Financial Regulation' and 'Ethics in Law'. Preserving an inquisitive passion for research in technology and law, he is pursuing Ph.D. in AI domain from Bennett University; along with a data science program from IIT-Madras. His research interests are in Finance, Corporate Governance, Taxation & Emerging Technology Laws.
UGC-NET in Commerce
CA-PEE-II from the Institute of Chartered Accountants of India (ICAI), New Delhi
PGDBA (Finance & Operations) From Symbiosis, Pune
LL.M. (Corporate Law) From Subharti University, Meerut
LL.B. From Saurashtra University, Rajkot
M.Com. From Manav Bharti University, Solan
B.Com. From Saurashtra University, Rajkot
Certification in Financial Regulation, Cornell University, New York
Certification in Ethics in Law, Cornell University, New York
Diploma in Computers from the Indo-German Computers, Mumbai
Presently pursuing Ph.D. in AI Domain from the Bennett University, Greater Noida; along with a Data Science Program from IIT-Madras.
He has 15+ years of teaching and administrative experience, in addition to six years in corporate sector.
Lead-Auditor, Sri Ravi Verma & Company, Chartered Accountants, New Delhi
HoD-BBA, KITE Group, Affiliated to CCSU, Meerut
HoD-MBA, IIMT Group, Affiliated to AKTU, Lucknow
Head-Liaison & Training, AIMT, Affiliated to AKTU, Lucknow
Assistant Professor, Sharda University, Greater Noida
He has also been associated with Institute of Chartered Accountants of India, Indian Institute of Corporate Affairs, Institute for Supply Management-India, Aptech Aviation & Hospitality Academy, IGNOU etc. in Delhi-NCR as a visiting faculty of finance and corporate laws for more than a decade. He has also worked in liaison with corporates and embassies for CSR initiatives.
In the outreach program, he has represented various institutions in more than 500+ counselling workshops in India and Nepal.
2022
"Grey Maze of Tax Evasion and Tax Avoidance vis-a-vis to Corporate Governance: Emerging Apprehensions of a Digital Economy" with Taxmann Publications (In Print: January 2022)
2021
"The Evolutionary Facets of Legal Education: In the Age of Globalization and Emerging Technologies" (Bloomsbury Publications) ISBN: 978-54350-82-5 (November 2021)
"Resilience of the Indian Economy In and Out of Covid-19 Crisis: An Assessment of How A Crisis Is Turning into An Opportunity " WJR, ISSN:0975-1386 (February 2021)
2020
"Implications of Artificial Intelligence in the Financial Credit Management: An Indian Perspective"Sambodhi, ISSN 22496661 (December 2020)
"Evolution and Potentials of Indian National Education Policy – 2020: Re-routing the Roots of Indian Education System" in the book "Dimensions of National Education Policy–2020" ISBN 978-12-346578-9-7 (November 2020)
"Constitutional Legitimacy to Right to Privacy vis-à-vis to Data Protection Bill" Bennett Journal of Legal Studies Volume I | Issue 1 (January 2020)
2019
"Microfinance Initiatives of MFIs in Madhya Pradesh: An Observation"at SITBS, ISSN 22772723 (March 2019)
2016
"Corporate Social Responsibility: An Ensuing Revelation Beyond Corporate Governance" at IJMTER Volume 3 Issue 4, ISSN 23958161 (April 2016)
Commercial and Legal Implications of AI (2020)
Impact of Economic Crimes on Indian Economy: An Evaluation in Indian Perspective (2014)
Expert Evidence in Legal Proceedings (2012)