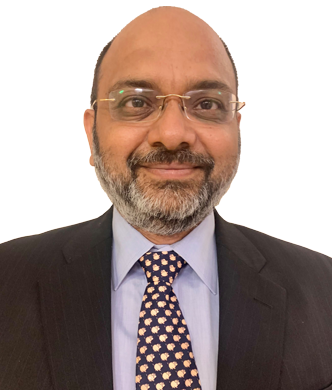 Sanjay Mansabdar
Professor of Practice
sanjay.mansabdar@mahindrauniversity.edu.in
Senior multi faceted professional with worldwide experience in managing trading business spanning multiple asset classes and derivatives at international banks and asset managers. Entrepreneur with experience building technology driven startups in the social sector including Education and Agriculture. Experience in Academia with published research and teaching in the area of financial markets and data science with a strong interest in Research, Teaching, Innovation and Entrepreneurship.
Jan 2017 - Mar 2022
Ph.D. Economics and Finance, BITS Pilani, Hyderabad. 
Thesis on the impact of Embedded Location Options on Agricultural Commodity Futures in India.
Jul 1992 - Apr 1994
PGDBM, XLRI, Jamshedpur.
Silver Medallist, specialization in Finance and Marketing
Jul 1987 - May 1991
B. Tech., IIT Bombay, Mumbai.
Mechanical Engineering
Apr 2018 - Nov 2022
Professional Work Experience:
Founder, Dvara E-Registry Pvt Ltd.
Startup for agri-finance using Satellite Data, Image Processing and AI
Apr 2015 - Mar 2018
Product, Markets and Risk Consultant. NCDEX, Mumbai Market and product design and optimization for Futures and Option Products
Feb 2012 - Jan 2013
Product and Markets Consultant, DGCX, Dubai Product and markets design and optimization of Currency, Interest Rate and Gold Futures
Feb 2010 - Aug 2015
Founder, ClearConcepts Knowledge Services Pvt Ltd., Hyderabad. Ed tech startup in the area of online test preparation
Sep 2006 - Aug 2015
Director/ Consultant, Allegro Advisors, Bangalore. Established asset management, execution and family office business.
May 2004 - Aug 2006
Principal, Azura Capital Advisors, Singapore. Portfolio Manager for Asia Focused Macro Hedge Fund
Jul 2001 - April 2004
Principal, Bank of America, Hong Kong. Head of Interest Rate Trading, Asia responsible for Bonds, Swaps, Options and Structured Products trading.
Apr 1998 - Jun 2001
Vice President, J.P Morgan, Tokyo & Mumbai.JGB OTC and Exchange Traded Options bookrunner. India Management Committee, Head of India Interest Rate Trading and Primary Dealer in India Government Securities
Mar 1995 - Mar 1998
Manager, ICICI Securities Primary Dealer, Government Bonds Trading
Apr 1994 - Feb 1995
Asst. Manager, Citibank, Mumbai Worldwide Securities Services
Jul 1991 - Jun 1992
Senior Officer, TISCO, Jamshedpur TISCO Design Shop – in house design of Capital Equipment
Publications
2023
2022
2021
2020
2019
Dr Mansabdar's research is in the area of Computational Finance, Commodity Derivatives, AI applications to Finance and Agricultural Economics.