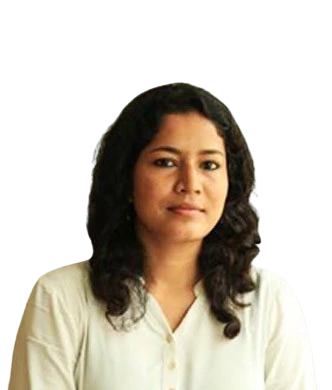 Sayoni Laha
sayoni.laha@mahindrauniversity.edu.in
As an Educator, Design thinker I am responsible for growing and maintaining the culture of design and ensure to maintain high motivational levels.
In 8 years of Teaching experience I always followed of various methods, disciplines of practice, and design rituals. The mentoring process allows my students to understand human-centered design as a core principle, while also allowing them to get an inside look into the various disciplines available within a global design field.
2013
2013: M.F.A in Fine arts, S.N School of Fine Arts, University of Hyderabad.
2011
2011: B.F.A in Fine Arts & Design, College of Art and Design, University of Burdwan.
Certificate Course
Certificate Course: Design thinking & Innovation, Indian Institute of Technology, Delhi. Creativity for innovation, Queensland University, EDX
2018 - Present
Academic Associate 2018 Sep – Present
Mahindra University, School of humanities & Social sciences
Courses: Design Thinking & Media.
2016 - 2018
Teaching Assistant 2016 Jul – 2018 Aug
Mahindra University, Ecole Centrale College of Engineering, Hyderabad
Courses: Design Thinking
2015 - 2016
Design Instructor 2015 Sep – 2016 July
CHIREC International School, Hyderabad
2013 - 2015
Art & Design Instructor 2013 Jun – 2015 Apr
Manthan International School, Hyderabad
Exhibitions
2020
"International art camp" organized by State art gallery (2020)
2019
"Displacement" group show. Curetted by Avani Rao Gandra (2019)
2018
"All India Art Competitions & Exhibition" in State art gallery, Hyderabad. (2018)
2017
"Drawing Experience" Group exhibition. The exhibition is curated by Avani Rao in Iconart Gallery Hyderabad ( 2017)
2017, "Art o Graph" a group show at HLF Hyderabad
2016
"Born A Girl" in Gothe-Zentrum by Iconart Gallery, Hyderabad (2016)
2014
"Voyage of Exploration" - A group exhibition in Shrishti Art Gallery, Hyderabad. (2014)
2013
Project Art Nexxt in Lalit Kala Academy, Delhi (2013)
2011
Exhibition in Gaganendra Pradarsansala, Kolkata (2011)
Annual Exhibition, Academic of Fine Arts Kolkata (2011)
Research Area
Product and Solution for Elderly
Women and Society
Heritage and culture