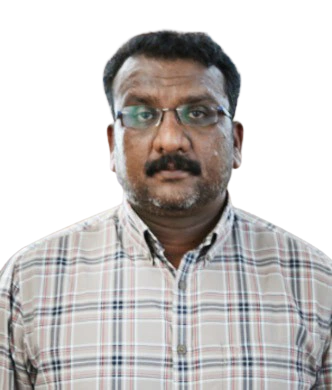 Sebastian Uppapalli
sebastian.uppapalli@mahindrauniversity.edu.in
Dr. Sebastian Uppapalli has been an investigator in air quality studies and development of novel modular power system. His current research focuses on the multiphysics simulations and characterization of flow dynamics for Newtonian, non-Newtonian and complex fluids within Microfluidics, Electrohydrodynamics and Biofluid dynamics.He is a member of Fluidics and Heat Transfer Laboratory, MU and recently guided students to develop an Autonomous Underwater Vehicle.He has also performed applied research in the fields of characterization of algae biofuels and building energy efficiency.
1999
BE – RCERT, Nagpur University (1999)
2017 - Present
Assistant Professor Mahindra University – July 2017 to Present

CFD Simulations for Biofluid dynamics, Electrohydrodynamics, Microfluidics and Hydrodynamics.
Instruction for Thermo-Fluid Sciences.
2016 - 2021
Sr. Mechanical Engineer Ion Power Group, US – January 2016 to December 2021

Thermo-fluid simulations and system characterization.
2009 - 2010
Research Associate Energy Systems Lab – August 2009 to June 2010

CFD simulations and characterization of spectral power for Algae Photo-bioreactor.
2008 - 2009
Application Engineer STS, LLC – December 2008 to June 2009

Control and Automation Software Development for Energy Efficiency Applications.
2004 - 2008
Research Engineer PEML lab, DRI – January 2004 to October 2008

Development and characterization of Emissions Systems.
https://publons.com/researcher/4871611/sebastian-uppapalli/
Uppapalli, S. and Zhao, H., 2014. The influence of particle size and residual charge on electrostatic interactions between charged colloidal particles at an oil–water interface. Soft Matter, 10(25), pp.4555-4560.
Uppapalli, S. and Zhao, H., 2012. Polarization of a diffuse soft particle subjected to an alternating current field. Langmuir, 28(30), pp.11164-11172.
Gillies, J.A., Etyemezian, V., Kuhns, H., McAlpine, J.D., King, J., Uppapalli, S., Nikolich, G. and Engelbrecht, J., 2010. Dust emissions created by low-level rotary-winged aircraft flight over desert surfaces. Atmospheric Environment, 44(8), pp.1043-1053.
Zhu, D., Nussbaum, N.J., Kuhns, H.D., Chang, M.C.O., Sodeman, D., Uppapalli, S., Moosmüller, H., Chow, J.C. and Watson, J.G., 2009. In-plume emission test stand 2: emission factors for 10-to 100-kW US military generators. Journal of the Air & Waste Management Association, 59(12), pp.1446-1457.
Microfluidics, Biofluid Dynamics, Electrohydrodynamics, Lab-on-Chip technologies, Fluid-Structure Interaction.