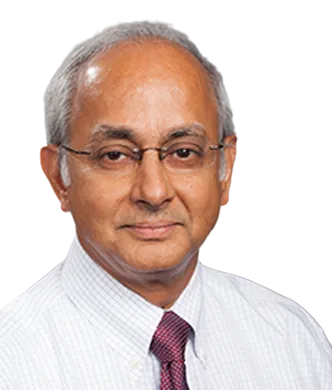 U. Srinivasa Rangan
Visiting Faculty, Centre for Executive Education
Dr. Rangan holds the Lukšić Chair Professorship in Strategy and Global Studies at Babson College, USA. His teaching, consulting, and research focus on competitive strategy, globalization, and alliances. His current research deals with the globalization of Indian, Chinese, and Brazilian firms, their use of acquisitions and alliances, evolution of industries and firm-level strategies, and the impact of national business systems on them.
After serving as a manager with State Bank of India in India and England, Dr. Rangan held research and faculty positions at IMD, Harvard Business School, and Tulane University. He has been recognized for both teaching excellence and scholarly accomplishment. At Tulane, he received the Howard Wissner Award for Outstanding Teaching. At Babson, he was the first, and so far the only, professor to receive the Deans' Award for Teaching Excellence, the Thomas Kennedy Award for Outstanding Teaching in graduate school, and the Faculty Award for Scholarship. He also received teaching excellence award in executive programs at Rotman School (University of Toronto). He is also a fellow at Legatum Institute, a major think tank in London.
Dr. Rangan has been a consultant to and a designer/deliverer of executive programs for several firms. He has taught in several such programs at Babson, Helsinki School of Economics, Stockholm School of Economics, Amos Tuck School (Dartmouth), Rotman School (Toronto), and Indian School of Business, working with senior managers from North and South America, Europe, and Asia. Among the firms and organizations he has worked with are: AAMO, ACMA, Aditya Birla Group, Allied Domecq, Amoco, American Saw & Manufacturing, BACI, Biotech Council of Massachusetts, Bosch, Constantia, Deere, Entergy, Expolanka, Gammon India, GE, Haemonetics, Holcim, IBM, Infineon, Intel, L&T Finance, Novartis, Nypro, Olam, ONGC, PDVSA, Panasonic, Pitney-Bowes, Polaroid, SAP, Siemens, State Bank of India, TCIL, Telenor, TVS Motors, UNCTAD, and Wipro. He also worked with Professor Porter of HBS to advise the Indian government on the economic development policies to pursue in order to ensure national competitiveness following the government's decision in the 1990s to liberalize the economy.
Dr. Rangan is the co-author of three books (Strategic Alliances: An Entrepreneurial Approach to Globalization, HBS Press, 1995; Capital Rising, Palgrave Macmillan, 2010; and Thriving in the 21st Century Economy: Transformational Skills for Technical Professionals, ASME Press, 2013) and the co-editor of a fourth (Global Strategies for Emerging Asia, Wiley/Jossey-Bass, 2012). His first book was named one of the top 30 business books of the year in both the U.S. and Europe and, more recently, was named a management classic. His second book deals with how entrepreneurial ecosystems of nations and global capital flows interact to change the global competitive landscape. The third book looks at how globalization has changed the nature of the work for STEM professionals. The fourth book examines how global firms are trying to compete in Asia. Author of several best-selling case studies, Dr. Rangan has also published articles in academic journals such as the Journal of Global Marketing, Journal of World Business, Strategic Change, American Journal of Economics and Sociology, and International Journal of Indian Culture and Business Management. He has presented papers at academic gatherings and has been a speaker at several practitioner-oriented conferences and forums.
Dr. Rangan has done his MBA. from IMD, Lausanne, Switzerland; and DBA from Harvard University