The B.Tech curriculum is based on a core program in Basic Sciences (47 credits), Basic Engineering (28 credits), Humanities, Social and Creative Sciences (15 credits), Enterprise Sciences (10 credits).
The program aims at providing the students with:
A basic knowledge of the scientific-technological-social-business environment they are going to work in as practitioners.
Methods and skills for analytical, critical, design thinking, experimental approaches, project management and communication.
B.Tech Programs
Artificial Intelligence
Computation & Mathematics Engineering
Computer Science & Engineering
Mechatronics
Civil Engineering
Electronics & Computer Engineering
Mechanical Engineering
Nano Technology
Proposed New Specializations to be launched for the academic year 2022-2023 intake:
Electronics & Communication Engineering – 60 Seats
Computational Biology – 30 Seats
4-Years B.Tech Program
Program Structure
Mahindra University École Centrale School of Engineering (MU) will provide apprenticeship with collaboration from the industry, focus on humanities, international exposure and allied education to develop a 'whole-brain-approach' to business.
Each undergraduate program at MU has a blended curriculum. students have to acquire 172 credits to graduate.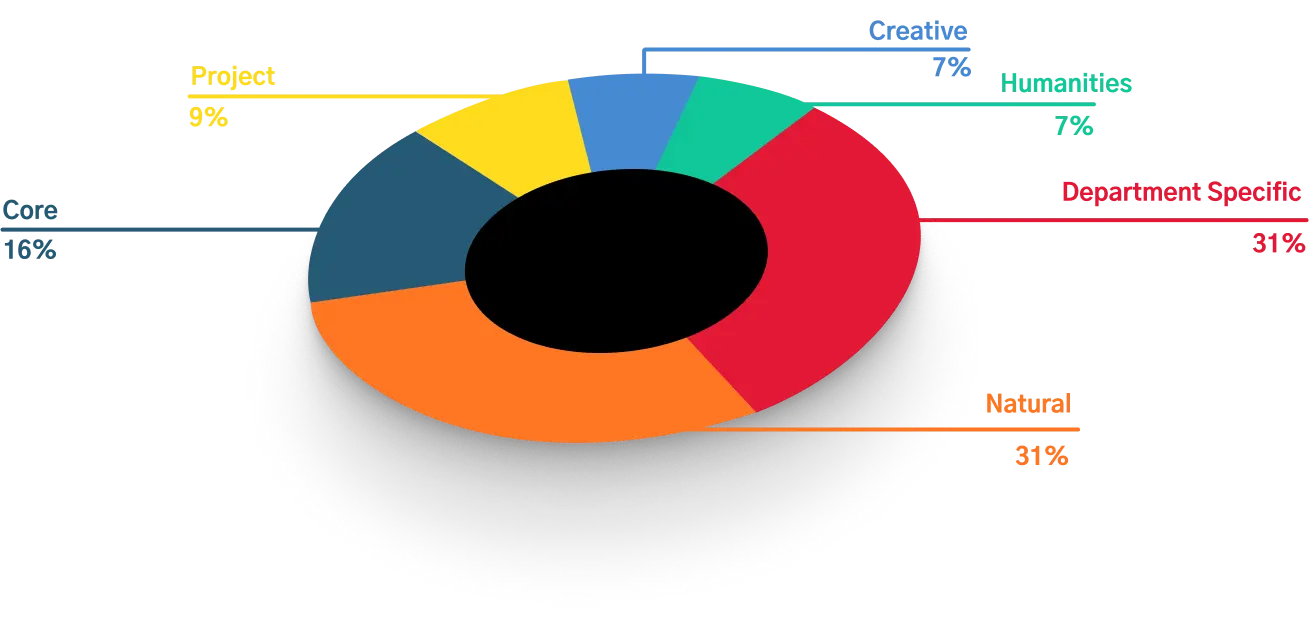 Number of Credits
| Technical Courses | Year 1 | Year 2 | Year 3 | Year 4 | Total |
| --- | --- | --- | --- | --- | --- |
| Humanities | 04 | 4.5 | 0 | 3 | 11.5 |
| Creative Science | 03 | 04 | 03 | 02 | 12.0 |
| Natural Science | 22 | 20.0 | 10 | 0 | 52.5 |
| Core Engineering | 13 | 12 | 02 | 00 | 27.0 |
| Department Specific | 00 | 03 | 24 | 27 | 54.0 |
| Project | 00 | 00 | 05 | 10 | 15.0 |
| Department Specific | 42.0 | 44.0 | 44.0 | 42.0 | 172.0 |