Here's your chance to prevent a cybercrime | B.Tech in Computer Science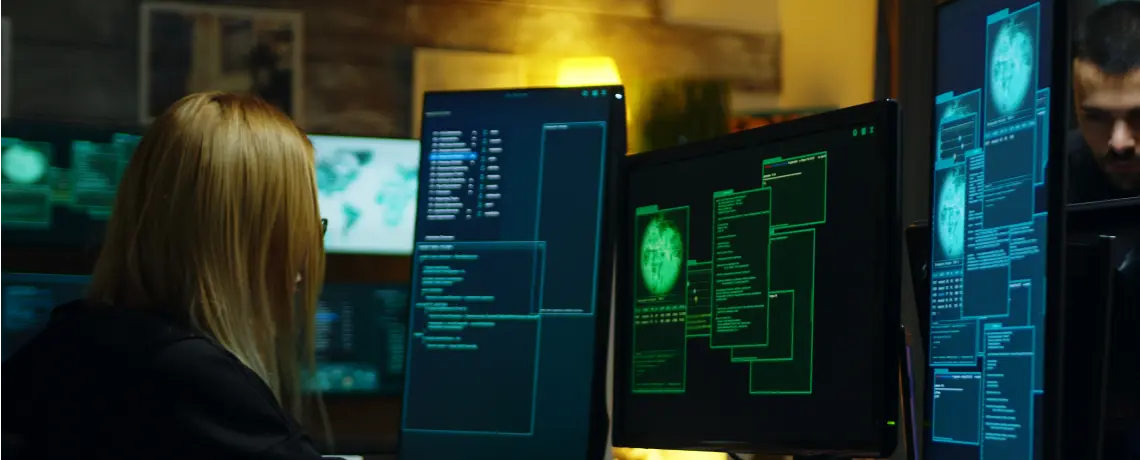 Today's generation is surrounded by high-tech computer technology. Everything is the gift of technology, from your iPhone watch alarm that wakes you up from sweet slumber to the tablets you use to read, study, and chat. It is necessary and crucial to our daily routines. Yet very few of us comprehend the nuances of technology and how it functions today, increasing the chances of cybercrimes, cyber identity theft, data breach and privacy violation.
Yes, we live in a dubious digital world where the biggest angst among individuals and organizations is losing out on reticent data. According to the Business Today report, India ranks third globally in data violation, with as many as 86.63 million Indian Internet users breached by November 2021.
COVID-19 escalated cybercrimes
The coronavirus outburst only elevated technological adoption. We certainly cannot calculate how many people were emotionally, financially or physically conned during the lockdown through the virtual world. There's a reason why companies are investing so much in transcending cybersecurity as a focal business issue and building creating more extensive collaborations to resolve this issue.
But do we have enough cyber experts to identify, rectify and resolve these virtual crimes? The bigger concern is: are they doing their job well even if they exist? Do they know the technicalities of this alarming concern? Are they well-informed and educated to understand the intricacies? No!
Study at the right place
Mahindra University is one of the leading engineering institutes that guarantee credible computer science & engineering education. It offers B.Tech in Computer Science & Engineering under its famously known École Centrale School of Engineering at Mahindra University, collaborating closely with École Centrale Paris, France.
B.Tech in Computer Science & Engineering at MU covers a range of subjects so that young engineers can focus on the fundamentals of computer programming and networking. Here are a few of the topics students will cover:
Digital Systems
Mobile Computing
Computer Networks
Artificial Intelligence (AI)
Database Management Systems
Formal Languages & Automation
Introduction to Modern Physics
Linear Algebra & Applied Analysis
What is Computer Science at Mahindra University all about?
Faculty members at MU have impressive academic, science and tech backgrounds. One of the key advantages of studying here is that you learn under the guidance of teachers with Indian and international educational qualifications.
While pursuing the undergraduate programme, students will inculcate entrepreneurial traits and be able to upgrade their practical, professional, communication and critical analytical skills. Hence, identifying and solving the problems of tomorrow's world will be easier for them.
They will develop original ideas and be prudent enough to build technology products, thereby increasing their chances of being hired by leading corporate houses. MU placements have changed the lives of many computer science students. As a result, top-ranking firms have recruited them, like Schlumberger, Untangle, Telstra, ZS Associates, Capgemini, etc.
MU has a well-established infrastructure – 3-D printing, prototyping labs, Electrical-Electronics lab and the NVIDIA Superlab – for young computer students to experiment with their skills and dwell deeper into research.
Research and grab information on Mahindra University's official website for details like MU fees. Try exploring the curriculum of B.Tech in Computer Science & Engineering too. Remember, every little detail about your future education matters.
Be smart. Be mindful.
In January 2020, the Supreme Court came out with a crucial verdict. It was on the privacy of Indian citizens. The judgment said that privacy is a fundamental right of an individual and is the most integral part of the right to life and liberty. But, the paradox is we have given all the rights to the "age of technology" to access our computer data and devices. And in some cases, it is even worse when a hacker can trespass on our security mechanisms. Hence, India needs cyber expertise to fix this virtual scam as early as possible. And for that, you have to choose your course of study wisely. If Computer Science is something that interests you, be mindful. Abandon traditional courses and invest in something new. For example, you could choose Artificial Intelligence as your specialization. You'll get to know a lot about the virtual world through this.