Learn, Research and Contribute with Bachelor of Economics and Finance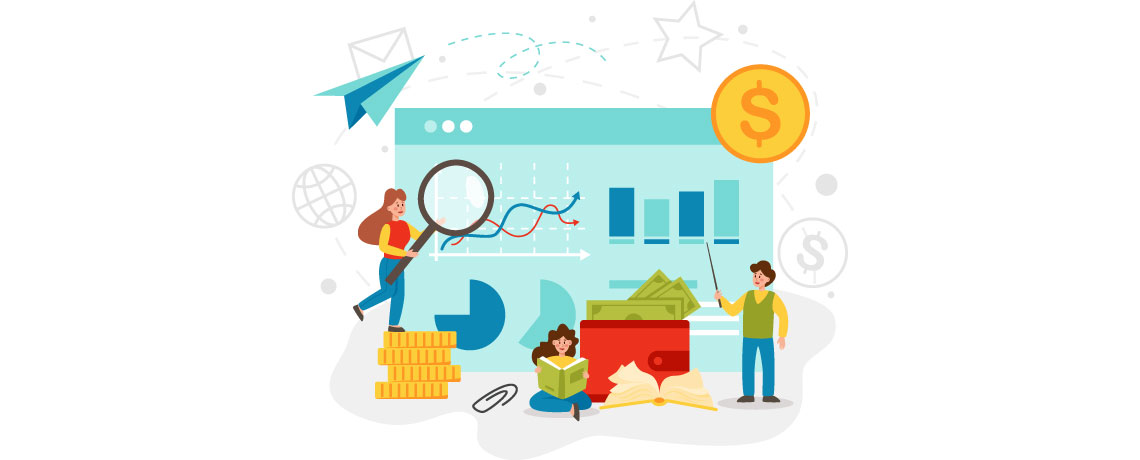 Economics and finance complement one another to provide a comprehensive panorama of the business world. The Bachelor of Economics and Finance is an undergraduate degree programme that trains students for careers in a variety of industries.
The BA economics and finance course covers business analysis, statistics, accounting, microeconomics, and macroeconomics. Students can also take courses in international business, finance economics, and economics applied to industries such as agriculture and natural resources. Furthermore, the course includes psychology, chemistry, history, and world literature to provide a well-rounded education.
According to Monster data, finance-related jobs account for nearly 8% of all jobs posted on the platform. Some of the most in-demand professional skills in the industry today are financial statements, credit operations, analytical skills, wealth management, investment banking, internal audit, and cybersecurity.
As for, yes, Economists are in high demand as well. Economists' employment is expected to grow 13% between 2020 and 2030, swifter than the average for all occupations. This is because many roles require economists to have specific knowledge.
A Bachelor of Economics and Finance degree teaches students the fundamentals of economics, financial management, and how businesses, various institutions, and even individuals make decisions about their capital and how they spend it. This degree programme will offer students the skills and knowledge they need to qualify for a variety of career options after BA Economics in the business economy, finance, accounting, consulting, analysing, and other fields.
What Will You Learn in a Bachelor of Economics and Finance Degree?
A degree in economics and finance will include business analysis, statistics, accounting, and micro and macroeconomics courses. To obtain a more well-rounded education, you will gain knowledge about global business, implementing economics to specific sectors, business foundations, financial reporting, management accounting, risk management, and taxation, as well as some general courses on history, psychology, and world literature.
A degree in economics and finance prepares you to pursue jobs in a variety of industries and dimensions. It opens the door to a wide variety of roles, and economists frequently have the opportunity to work in industries such as business, government, and academia, as well as in a private industrial setting.
The versatility and breadth of an economics and finance degree can serve as the foundation for many well-paying jobs. The economics curriculum provides students with a thorough understanding of finance, markets, and resource management.
Career Options After BA Economics and Finance
Pursuing a Bachelor of Economics and Finance is a wise decision for a variety of reasons, ranging from the careers available to the salaries linked with those roles. With this degree, you will be equipped with skills that you can use in both economic and non-economic jobs. An economics and finance degree can increase your employability in a variety of fields. Here are some career options after BA Economics and Finance which you might like to choose:
Economist
Data analyst
Accountant
Investment Analyst
Economic researcher
Financial Consultant
Financial risk analyst
Financial planner
Mahindra University – Your Portal Towards a Lucrative Career in Economics
Mahindra University's School of Management (MU-SoM) offers a BA in economics and finance course featuring industry-ready curricula, a strong research focus, a high-quality faculty pool, and a strong internationally benchmarked pedagogy. The program is regularly tested for industry relevance.
Mahindra University is part of the Mahindra Educational Institutions (MEI), a not-for-profit subsidiary of Tech Mahindra, the Mahindra Group's flagship IT company. Its mission is to "educate future citizens for and of a better world."
This Bachelor of Economics and Finance degree will be awarded upon successful completion of three years of study under the academic programme and curricula established and approved by the University's Academic Council.
BA in Economics and Finance degree at the School of Management of Mahindra University gives students a solid foundation in Economics and Finance while preparing them to function in a digitalised world. After graduation, students can pursue further education in India or abroad, or they can work in a variety of industries, including banking, financial services, and insurance (BFSI), consulting, research, data analytics, fast-moving consumer goods, healthcare, retail (both online and offline), and manufacturing.
BA Economics Eligibility Criteria
BA economics eligibility criteria at Mahindra University are as follows:
10+2 or equivalent from any Govt. board with 80% or equivalent grade from IB or other approved board for students.
Students with valid SAT or Pearson Undergraduate Entrance Exam scores will be considered for admission (however, these scores are not mandatory).
Panel interviews for shortlisted candidates will be conducted.
Mathematics is a required subject at the 10+2 level.
Having good communication skills (both verbal and written) will be an added benefit.
BA Economics Tuition Fee
INR 2.5 lacs/annum tuition fee; food, accommodation and international immersion will be extra.
The important thing to remember is that a Bachelor of Economics and Finance is an exchangeable, advantageous, and fascinating degree option. Undoubtedly, following this path is a wise decision, but you'll only be likely to succeed if you are interested in the courses that go along with it. So, if what we discussed throughout the article piques your interest, it may be time for you to get into economics and contribute to the economy in ways other than the money you spend shopping.
For more information about the Bachelor of Economics and Finance course, visit the following page:
https://www.mahindrauniversity.edu.in/admissions/undergraduate-programs/ba-economics-and-finance