Empower the Future of Technology with B Tech in Artificial Intelligence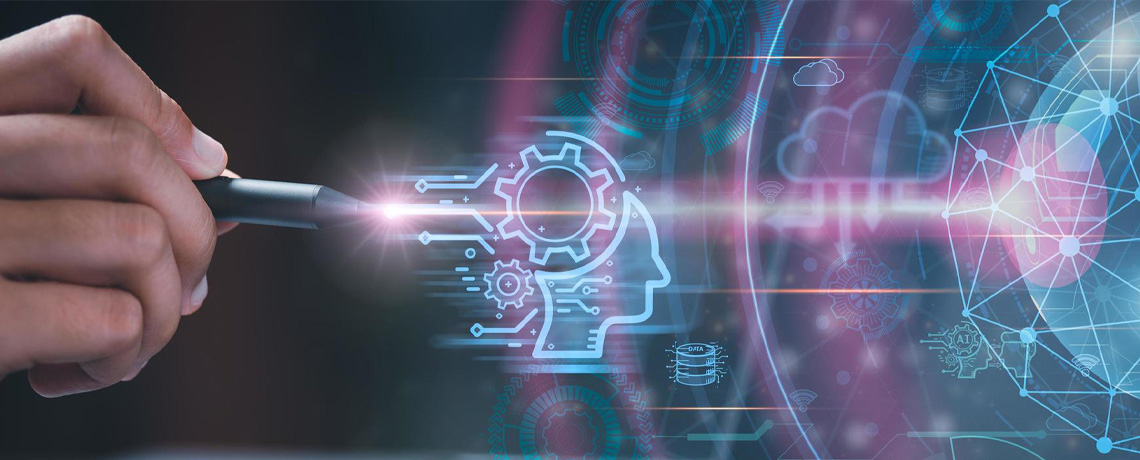 In the past few years, Artificial Intelligence Technology has gained immense popularity. Be it bots serving food at hotels to self-driven vehicles, the applications and influences of AI can be witnessed in everyday life!
A renowned American Scientist coined Artificial Intelligence; John McCarthy defines this programme as the science and engineering of developing smart machines, particularly Intelligent Computer Programmes.
Simply put, AI builds smart-innovative software and systems depending on how human brains work, learn and decide, and resolve issues.
With an Artificial Intelligence presence, professionals globally are stressed about bots taking human's place. However, as per Gartner's Study, AI is undoubtedly blossoming and is expected to create job opportunities for more than 2.5 million individuals.
In today's era, Artificial Intelligence capabilities are sky-rocketing across all sectors, for instance-
Face Recognition
Speech Recognition
Vision Recognition
Search Engines
Weaponry
Robotics
Neural Networks
Gaming
If you are weighing career options, opting for B Tech. in Artificial Intelligence would be your ideal career option. So, without any further ado, let's dive into the B Tech. Artificial Intelligence course details.
Career Opportunities in Artificial Intelligence
A pool of opportunities is open for individuals planning to opt for BTech. in Artificial Intelligence. Below mentioned are some popular job profiles:
Data Scientist
Robotic Scientist
Data Analyst
Data Engineer
Machine Learning Engineer
Artificial Intelligence Engineer
Machine Learning Architect
Eligibility for Artificial Intelligence Course
Before you enrol in B Tech. in Artificial Intelligence, comprehend that eligibility can vary from one institution to another. To be eligible-
Qualify in JEE (MAIN) examination and be eligible to write the JEE Advanced Or Top All India Rank in JEE (MAIN) examination or
A valid SAT Subject test Score (which should include Mathematics, Physics, Chemistry) – minimum 1800 or
A valid SAT Test Score ( Min. 800 ) or
A valid ACT Score ( Min. Composite Score 18 )
Students getting admitted through JEE / SAT / ACT mode need to have 60% or equivalent grade in 10+2 from any Statutory Board
Artificial Intelligence Course Fees
When it comes to course fees, they can vary from one university to another! The average artificial intelligence course fees can range between 1 lac to 5 lacs. Also, the fees depend upon if the institute is public or private.
B Tech Artificial Intelligence Scope
Artificial Intelligence's future is brighter as numerous organisations are incorporating AI automation, which helps shape the world. Moreover, there are still a lot of the latest innovations yet to emerge in the field of Artificial Intelligence, encouraging students to join B.Tech. in Artificial Intelligence from a reputed college or university.
No denying; AI start-ups in the Asia Pacific market are expected to rise at the highest CAGR of 42% from 2022 to 2030, meaning there will be an immense requirement for AI developers and talented engineers. Hence, you will have a secure future if you wish to pursue a B Tech degree in Artificial Intelligence from Mahindra University's École Centrale School of Engineering.
B Tech. Artificial Intelligence Syllabus
The B Tech. in Artificial Intelligence course typically focuses on students imparting theoretical understanding as well as practical knowledge. In the first year, aspirants learn about computer applications and software, including real-time software development and programming languages. Besides, physics-related theories, software applications, mathematical ideas, machine learning, etc., are covered between semesters.
B Tech. Artificial Intelligence syllabus includes-
Artificial Intelligence
Robotics
Physics
Mathematics
Data Structure
Machine Learning
Software Engineering
Programming Languages
There is no denying; B.Tech. in Artificial Intelligence is an extensive programme for students who want to pursue their career in Artificial Intelligence, Machine & Deep Learning, and Big Data. However, enrolling in the best of the best universities or institutions can make a difference.
A university with world-class infrastructure, the-state-of-art laboratories, well-versed faculties, with immense industry exposure can help you achieve your dream, and Mahindra University is certainly the one!
Mahindra University – A University to Sky-Rocket Your Artificial Intelligence Career!
The École Centrale School of Engineering at Mahindra University (ECSOE) offers a four-year B.Tech. degree, which includes multidisciplinary courses like Artificial Intelligence, in partnership with the École Centrale Group of Institutions of France.
Mahindra University's B Tech. disciplines are typically aimed at making aspirants with idiosyncratic abilities gel up with worldwide engineering challenges and try the latest innovations that would assist them in redefining their future in the Artificial Intelligence course. Simply put the sole vision of the B Tech. in Artificial Intelligence course at Mahindra University is to create skill-full AI engineers who will alter the globe via its unique AI solutions. For this, the varsity collaborates closely with several international institutions, including:
CentraleSupélec
Babson College
Virginia Tech
University of Florida
Students who wish to pursue B.Tech. in Artificial Intelligence programme from Mahindra University can choose from six theme areas of specialisation:
Machine Vision
Cybersecurity
Bioinformatics
Smart Industry
Robotics and Autonomous Systems
Natural Language Processing (NLP)
To produce futuristic AI engineers, the B Tech. in Artificial Intelligence programme at Mahindra University encompasses the following subjects:
AI Core
Foundations of NLP Signals
Computer Science
Humanities and Arts
Mathematics and Statistics
Natural Sciences & Electronics
Electives like Computational Biology
Furthermore, the Center for Artificial Intelligence at Mahindra University supports B. Tech. in AI programme academically and technically. The active and growing group of researchers at the Center help students dive deeper into the subject and its applications.
The Final Thought
Artificial Intelligence is here to stay! As advancement in Science and technology has been pushing the boundaries of AI, more and more jobs will get created! If you are keen to explore and excel in this arena, keep in mind; it is always early enough to gear up! All you need is- to enrol in Mahindra University's B.Tech. in Artificial Intelligence programme and see your career sky-rocketing!