How B.Tech In Mechatronics Engineering Contributes In Making Human Life Easier?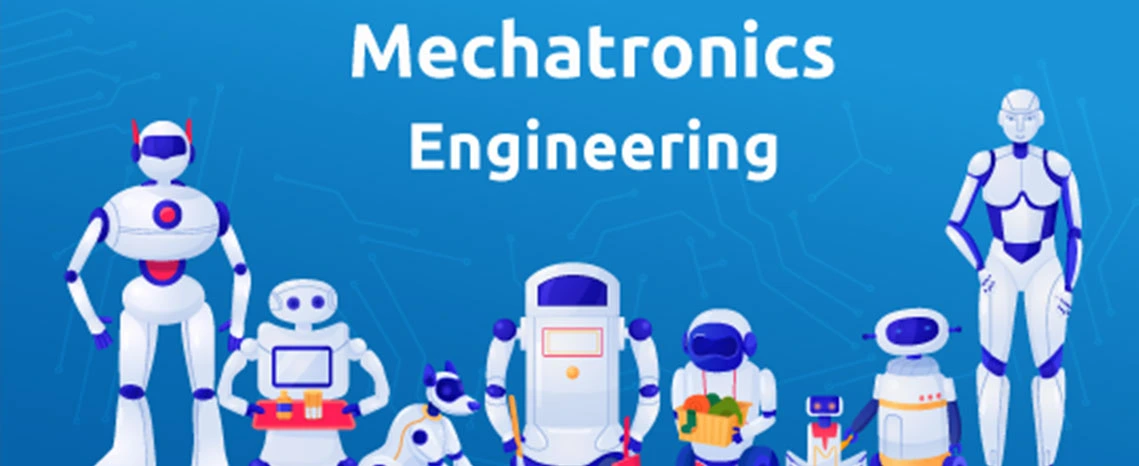 All of us are fascinated by robots at some point in our lives. But some individuals dream about developing robots that could make a big difference in everyone's life. Thus, for the ambitious students who want to make effective use of machines and technology, there is B.Tech in Mechatronics Engineering. Mechatronics is the synergic amalgamation of mechanical, electronics, electrical, computer science and information technology, which involves control systems used to equip products with built-in intelligence. Mechatronics engineering fuses the aspects of mechatronics system modelling, sensors, controllers, actuators, and real-time computer interfacing.
In India, B.Tech in Mechatronics Engineering College expands into a three-year undergraduate programme that will provide aspirants with the skills to design, develop, and run factory production lines and automated processes. A B.Tech in Mechatronics Engineering program equips the aspirants with special designing software to ease the process and have a static and dynamic understanding of machines as a Mechanical Engineer would, emphasising using that knowledge to develop the robots. Apart from the massive research required, aspirants will also spend ample time doing trial and error, designing and building robots. The fundamental skill-set in this area is research and developing modern creative ideas to make robots more efficient and human friendly.
B.Tech Mechatronics program incorporates engineers with multi-disciplinary skills. Graduates from the Mechatronics program are well equipped with the fundamental skills they can utilise in computers, micro-controllers, programable logical controllers, industrial sensors, programing, hydraulic, pneumatic and electric drives, and mechanical structure design and mechanism and manufacturing process. Additionally, the B.Tech in Mechatronics Engineering fees vary from institution to institution depending upon its performance, faculty, placements and achievements.
Moreover, the programme is high in demand among the aspirants. Despite being a new area, the career prospects for the aspirants in the area are vast as this area holds extreme importance for the world in future.
What are the primary roles of a Mechatronics Engineer?
A mechatronics engineer combines the study of multiple engineering disciplines, like mechanical, computing, electronic, etc., to generate more straightforward, reliable, cost-effective, and long-lasting solutions. Mechatronics engineers are trained to function as mechanical engineers who integrate practical software engineering skills and electronics. Therefore, the core of their mechanical engineering expertise also combines with the other areas.
The B.Tech Mechatronics Engineering Colleges in India nurtures mechatronics engineers who develop mechanical, electrical and electronics engineering systems. In addition, mechatronics engineers are responsible for designing machines that encompass the control systems and software, apart from the mechanical system. For instance, their work in the industry involves creating an industrial robot that performs day-to-day tasks.
B.Tech Mechatronics Engineering graduates work on complex technologies to manufacture vehicles. These vehicles combine mechanical parts that turn other parts, an electrical system that carries out energy for the other components, such as headlights to function, and the sensors and computers signal the movements. Additionally, From the consumer goods and medical industry, laundry machines, smartphones, x-ray machines, espresso machines, MRI machines, mechatronics engineering is involved in various areas. Professionals from mechatronics are involved from designing to testing to the manufacturing phase of product development. Industry-specific jobs may also include testing codes creating projects and electrical systems.
The areas of B.Tech in Mechatronics engineering include power systems, transportation, optical telecommunications and biomedical engineering. Therefore, the demand for mechatronics engineers in India is enormous. The industries that hire qualified professionals in the mechatronics area include oil, transport, mining, robotics, aerospace, defence, aviation, manufacturing, etc. These professionals also have an excellent opportunity to work in the Navy, Army, Air Force and leading organisations like DRDO and ISRO. An estimated report shows that the demand for Mechatronics Engineers in India has revealed a 5% comparative increase. In addition, these engineers manage automated equipment and work in offices, laboratories and sites.
Furthermore, if you want to pursue the course from one of the renowned universities of India, then consider Mahindra University Hyderabad as the best choice for you. This interdisciplinary programme is extended by the Department of Mechanical Engineering in the Ecole Centrale School of Engineering at Mahindra University in alliance with the Electronic and Electrical Engineering and Computer Science Engineering departments. The four-year degree programme offers broad engineering-related knowledge through introductory courses in mechanics, computer programming, electronics, mathematics and physics. In addition, B.Tech Mechatronics Engineering at Mahindra Ecole Centrale enables you to gain additional knowledge in management, design, health care, Intelligent machines, and automated manufacturing.