Major Benefits That You Can Derive by Taking Up Certificate Programs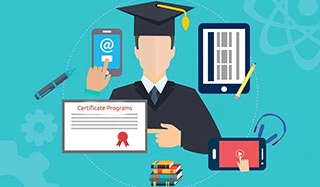 It is well known that there is an explosion of knowledge and easy access to new developments on the web. This revolution in knowledge availability results from the growth of the internet, the development of several technologies, and wide literacy levels. However, the competition at a professional level is also rising by the day. Therefore, professionals must keep themselves updated to be relevant and have an edge.
There are several ways to gain this knowledge, like formal degree programs, which involves substantial dedicated time, effort and cost. Alternatively, there are several accredited focused short-duration certificate programs. The latter is gaining popularity given the advent of internet-based visual teaching methods.
This type of certificate program offers the following benefits:-
A Competitive Advantage: When you have a certification that your peers don't, you have an advantage in your organization or class. All other factors being equal, an added qualification like a certificate in a relevant professional course provides an opportunity for career growth. For example, certification in a Python program, cloud computing, or such software is a definite advantage. This ability to continually develop oneself also demonstrates that you have an aptitude.
Light on Your Pocket: The certificate programs, being short duration focused learnings, are usually less costly than a full-time course. Since the programs are not at an off-site location, they do not involve costs for travel, boarding, lodging and the associated infrastructure costs (like library, faculty, labs etc.). These days, some good websites like Coursera offer certificate programs tied up with reputed universities.
Structured Learning: Certificate Programs have a more definitive structure than learning through books or channels like YouTube and blogs. By acquiring new skills, you can hone your current work skills that you might have been wanting to improve to enhance your competency. In addition, it provides a structured learning path as it has been curated by experts who know that field and has been improved through trial and error over several years. Therefore the impact of such focused learning is expected to last for a long duration in their career.
Flexible Learning: Another factor that attracts many students is the flexibility in the learning schedule. Quite a few certifications have pre-recorded videos which are convenient for students as they can learn the courses at their own pace. Since there is no definite fixed schedule, students can learn at their convenience and need not hurry for lack of time. Some courses even have a mobile learning feature to access the coursework even through phone, making learning more accessible.
Can be Completed Quickly and Make you Industry Ready: In a world where a bachelor degree usually takes 3 to 4 years, and a post-graduate degree takes 1 to 2 years, a certification program can hardly take a couple of months. This faster learning mode makes a person industry-ready with various skills in less time. In addition, some of the programs have practical experience, which can be added to your resume or LinkedIn profile to provide your career with a boost.
Boost Efficiency and Increase Earning Potential: The advanced training gained from the particular certificate program can provide you with up-to-date tools and strategies that will guide you to manage your work more efficiently.
Finally, enhancing skills relevant to the business, industry or career will get higher remuneration and monetary benefits, apart from accreditation as an expert in the chosen field.
Online Certifications offer a way to find yourself a success. It is possible to succeed in your career with short-term course certifications and craft your path or become skilled in another with dedication and willpower.