Top 10 reasons to pursue a BBA Degree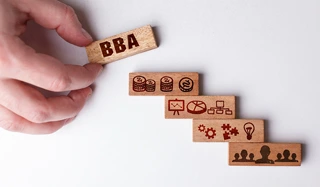 "There's no shortage of remarkable ideas; what's missing is the will to execute them." – Seth Godin
Students need to stay ahead of the game in a highly competitive world by keeping themselves updated. Today's job market wants highly skilled and intelligent candidates as well. Gone are the days, where only hard work was appreciated; today, companies need smart minds, attractive personalities, and creative thinking. Especially in business, students need top-notch training and modern education, and a BBA course exactly teaches that. To instil a combination of knowledge and various soft skills, numerous BBA colleges and institutions are modifying their pedagogy.
BBA in Digital Marketing is a fresh take on learning about business administration and finance-related subjects. Students can get a jump start in their careers with a BBA degree. If you want to build a career in the management and business sector, you should opt for a course in BBA. This course enables candidates to become big companies' managers and even start their businesses.
What is a BBA course?
BBA (Bachelors of Business Administration) is a three-year undergraduate business management course. This course imparts managerial and entrepreneurial skills to the students. In this course, students learn various subjects: business mathematics & statistics, Financial & management accounting, Production and material management, etc. In addition, this course can be pursued in multiple specializations such as Finance, Marketing and HR Management.
Let's have a look at some of the benefits of doing a BBA course:
It's a Versatile Degree: A BBA degree combines theory and practical knowledge application. This course helps develop the overall personality as well, which later helps them build a career in business. This course imparts various skills to the students, which creates a wholesome professional candidate.
Multiple Disciples Covered: Students get to learn numerous subjects under this course. This course covers a vast array of subjects which gives numerous options for students to pursue a career—the subjects of this course range from marketing, accounting, human resources management and strategic management.
Professional Degree: This course is considered a professional degree as it helps the students land in their career path after completing this course. After this course, the students have a high chance of getting placed in excellent companies.
Stepping Stone for MBA: BBA prepares the candidates better for MBA. In this course, the students are introduced to almost the same subjects later taught in detail in MBA. Therefore BBA candidates are better prepared to choose a specialization in their MBA.
High Salary & Benefits: All aspiring students would like a good salary package and excellent perquisites. This BBA degree helps them earn the best managerial and administrative professions with a good pay scale & better benefits.
Job Satisfaction: Most of the time, a candidate who chooses to do a BBA degree knows that they want to work in the business administration and management sector. Consequently, these candidates are better equipped to secure a better job and a career that gives them satisfaction.
Personal Development: This degree is not just something you mention in your resume, the benefits of this degree show in your personality. A BBA degree develops traits of superior self-confidence & strong leadership qualities.
Networking: A BBA degree helps students build a vast network of industry professionals. These professionals can open many doors and career opportunities for aspiring candidates.
On-Trend: With a BBA degree, students have modern and updated business world knowledge. A typical BBA degree is designed in such a manner it aims to teach the students the modern technicalities of the business world. Therefore, this course is in sync with the latest trends and developments in the market.
Affordable: This is a course that is way more affordable than an MBA degree. Not all students can pursue an MBA degree; even if they want to, they can opt for BBA instead due to financial constraints. The students get total value for the money through this course since they have high paying jobs.
With the rapid development in the business world and entrepreneurship culture, the BBA degree has become very popular. Hence there are various universities and colleges which are offering BBA courses. Mahindra University is one of the top-notch colleges which offers a BBA in digital marketing. Their course in BBA in business analytics is also quite popular among the students who want to make a career in the business field.