How has Computer Science Engineering (CSE) evolved to create a demand among engineering aspirants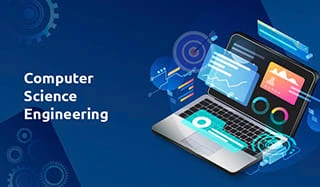 World War -II brought about the application of new technologies like Radar, Microwave, Computers into everyday use. Researchers and scientists innovated continuously to bring in microprocessors and software programming and thus paved the way for unprecedented changes in various equipment and devices like computers, aircraft and automobiles, the safety of process control automation in industries, etc. Several institutions like MIT, Stanford pioneered in several new-age scientific experiments and have created computer science as a centre of attraction in the engineering domain.
Although it won't be wrong to say that computers had been in development even before the world wars occurred, the wars only demanded rapid progression of computer technology and engineering, which helped the nations to achieve unprecedented power over one another.
Thus Information Technology (IT) has become the backbone of most enterprises, be it in industry, education or government. The function of a typical IT department is to offer innovative solutions for software and hardware and thus enable implementation of the objectives/ goals of the business, enterprise, or institution. A modern-age company cannot function without an IT department, proving that computer science engineers will be in demand and the jobs in this sector will keep growing in the coming years.
The recent change in the working pattern of most of the companies, post the pandemic, has made the importance of technology and computer science more essential. Thus, making the CSE in B.Tech the most sought after course in recent times.
The World Economic Forum recently highlighted, "The future of work has already arrived for a large majority of the online white-collar workforce. Eighty-four per cent of employers are set to rapidly digitalize working processes, including a significant expansion of remote work—with the potential to move 44% of their workforce to operate remotely. In addition, to address concerns about productivity and well-being, about one-third of all employers also expect to take steps to create a sense of community, connection and belonging among employees through digital tools and tackle the well-being challenges posed by the shift to remote work.
Let's have a look at the various benefits of opting for a CSE course in B.Tech:
Wide range of job prospects: Since companies are more eager to find professional computer engineers who are competent enough to handle every field of computing, the demand for computer engineers has increased in all sectors.
Opportunities for innovation and creativity: The field of B.Tech in computer science engineering offers more than just programming and coding. This field is full of creative opportunities where candidates develop innovative solutions daily for solving various technical issues in a company.
Well-rounded development of students:An education in computer science engineering offers students a strong foundation of computer knowledge, logical thinking, and problem-solving skills. B.Tech in CSE will help the candidates to have vast career options, as this course prepares them from multiple perspectives.
Bringing in positive change in the world: Computers are almost omnipresent, be it in industries, educational institutes, government departments, hospitals and medical research institutes etc., and provide excellent value in day-to-day life. CSE offers immense scope for innovations in several fields. For example, they help study the human genome, track vaccine research, and protect the environment, thus enabling us to make the world a better place to live.
Aspirants who have a keen interest in computers and want to explore the various aspects of computing and programming can opt for B.Tech in computer science engineering. Mahindra University offers a full-time four-year B.Tech in CSE that offers eleven departmental courses covering basic and advanced computer science engineering levels.
Imparting knowledge is not the only thing that matters in the modern education world. Students in today's time require a holistic learning environment that provides hands-on learning and an academic curriculum. At MU, the curriculum for B.Tech in computer science engineering is designed with a futuristic perspective that equips the students to tackle any challenges that arise from modern-day technological changes.
Aspirants looking for engineering colleges to pursue B.Tech in CSE can enrol in CSE courses in B.Tech offered by Mahindra University. They have an excellent and active placement cell that helps some of the best companies to recruit MU students every year.