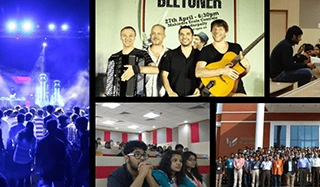 The year 2015-2016 proved to be quite exciting for everyone at MU. A great number of events were organised, ranging from art & design workshops to industry connects with some of the leading names in various fields today. We also had some remarkable guest lecturers and incredibly talented cultural performers visit us.
Take a walk down the memory lane with us. Let's look at some of the most unique events at MU last year:
#1 MUN Workshop
Model United Nations, also known as Model UN, Mock UN or MUN, is an educational simulation and/or academic competition in which students can learn about diplomacy, international relations, and the United Nations. Begun by Harvard, this simulation is now a popular part of curriculums globally in order to help students develop the required skills and knowledge. In keeping with our vision of holistic growth, MU organized a Model United Nations workshop on campus on the 7th & 8th of November, with Mr. Ashwin Shanbhag, a reputed MUNer, conducting it. Our young leaders of tomorrow came together at our Model United Nations, and discussed many socio-economic aspects of the world as a society today.
#2 2nd ICC Conference
The Indian Control Conference (ICC) with its focus on a wide variety of applications is very well aligned with the interdisciplinary pedagogical philosophy of Mahindra École Centrale, where engineering is taught with equal attention being paid to social sciences & humanities. With this shared vision, MU was very glad to come forward and host the 2nd edition of the control based conference.
#3 ISB TEP
The inclusion of multiple disciplines of education is what makes the curriculum at MU unique and holistic, ideal to nurture the leaders, innovators and entrepreneurs. The Indian School of Business (ISB) had their coordinators of the Technology Entrepreneurship Programme (TEP) visit MU in February. They educated our students about their 2 year multi-disciplinary programme, trains students to design and expand their horizons in the field of technology and entrepreneurship.
#4 Beltuner
Beltuner, a quartet, was founded in Paris in 2001 by mainly self-taught artists. While their first played album was composed of traditional tracks, the genres of which ranged from gypsy swing to Balkan music, soon an understanding developed between them and the group moved towards its own style, by mixing genres (jazz, world music, classic but also pop, rock, funk, etc.) & replacing traditional tracks with unexpected compositions and reprises.
As a part of the Gypsy Jazz concerts in India organised by Alliance Française, Beltuner performed at MU on 27th April, 2016, marking their final destination of the tour.
#5 Aether
Aether, the first spring techno-cultural fest at MU, was organised over the weekend of the 4th and 5th of March. The students and faculty participated in multiple events. The atmosphere on campus was of sheer excitement and energy. The technical events saw the students compete to build hover crafts and solve an intellectual treasure hunt over the internet. On the day of the cultural events, the faculty raised the bar of enthusiasm with an eating contest and the students ended the night with performances before DJ Anish took over and had everybody dancing to the beats he spun out.
#6 iConnect Delhi
MU organised an industry connect programme at Gurgaon, where the focus was on innovation: "Right/Left – Thinking Forward". On February 26th, 35 industry leaders from HR domain came together to deliberate upon the role of innovation within organisations, the increasingly obvious role that creative and design thinking are playing as key differentiator when it comes to the employability of engineers across the industry spectrum.
#7 iConnect at MU
Internships, Globalisation, Entrepreneurship: this was the purpose of the iConnect at MU on January 23rd. First of its kind, this event served as a model platform that brought together Industry representatives and the students of MU, with the intent of enabling Internships for students in reputed and leading industry houses while ensuring that they got to understand business expectations and processes, industry standards and requirements in a dialogue that would make a substantial difference to their future career prospects. The participating companies in this event were: Cogent Glass, Nibble Matrix, Atos, Vicat& Larsen & Toubro.
#8 Professor Serge Haroche visits MU
Professor Serge Haroche was awarded the 2012 Nobel Prize in Physics for ""ground-breaking experimental methods that enable measuring and manipulation of individual quantum systems"". His research, applied in quantum computing, holds the key to a major sector of investment for most of our partners (Google, IBM, Microsoft, Amazon etc.) as quantum computers would let coders run calculations in a coffee break that would take a supercomputer of today millions of years.
The students and faculty at MU participated in an inspiring and memorable interaction with Professor Serge Haroche, Nobel Laureate, on January 8th, 2016.
#9 National Australian Bank Delegate visits MU
Jennifer Ridgeway, Head -Account Management project, National Australian Bank (NAB) visited MU along with a TechM delegation.
The topics of discussion with the Dean and Faculty ranged from Big Data & Co-Innovation to Internships for MU students going forward.
#10 I-Path workshop 2015
A full day workshop on "Protection of Intellectual Property through Patents" was organised for the academia and the industry on 12 September, 2015 at the MU campus. Nearly 35-40 industry leaders and academicians attended the workshop. Mr Ashok Ram Kumar, a leading IPR attorney, was the subject matter expert in attendance. It was focused the 3Ps of innovation – Patent, Protect and Prosper.