What is the Dress Code for an Interview ?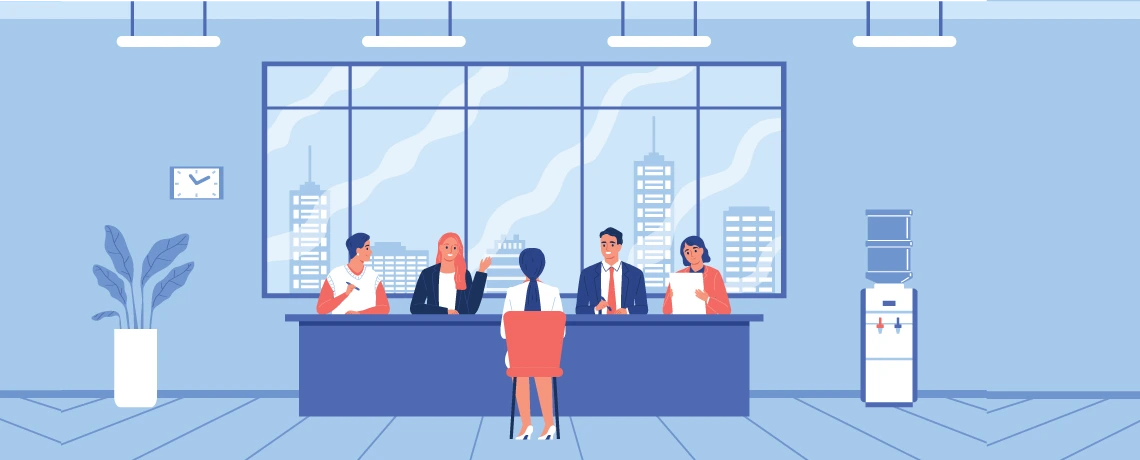 Professional or Business Interview attire: When a job interview calls for you to wear professional attire, For men, this might be a suit jacket and tie or a sweater and button-down, followed by socks and shoes.
Shirts should usually be light or a solid colour clothing with long sleeves. Further, it can also be a plain one or with micro checks.
You can also wear a formal suit with a blazer, preferably in the colours of navy blue, black, dark grey or dark brown.
Wear a dark- coloured trouser, plain ones over printed ones. The fit of the trouser can be slim, medium, or regular fit.
Consider wearing a watch, belt and carrying a bag of neutral colours.
For women shirt and formal pants or a smart kurta can be worn. Colour coordination is a crucial point the interviewees should consider when dressing up. Avoid wearing a tight-fitted one with lace, animal print or glitter.
For Western wear, a dark or pastel-coloured pantsuit with light coloured shirt makes it a smart choice. A well- fitted knee – length straight cut dress is a good option too. Colours such as tan, beige, black and navy blue go well as far as shoes and handbags are concerned.
Make-up and Hairstyle should be well done and to the minimum.
For casual Interview: For a casual interview for men, long-sleeved or button-down shirts suit the best. Light colours like light pink, light grey, light brown, mauve etc. Denim shirts can also be worn.
The Socks should match the colour of the trouser. The shoes should be dark colours or sneakers can also be worn Women can wear a traditional Indian suit in light colour without heavy embroidery.
Full or half-sleeve shirts are good to sport for a casual interview. Do prefer shirts with simple or no design. Khaki pants or cotton pants usually work well with shirts and tops. Wear them in dark colours like blue, black, coffee, and grey.
Looking smart, chic and professional is what you should be while dressing for a job interview. You should look professional and chic regardless of the position you seek. It is said the first impression is the last impression, so no matter what position you should go to the role you are applying for looking neat and tidy.
Confirm that you know the appropriate dress code before assuming that business casual is acceptable. If you aren't sure, call the office and ask the coordinator or contact the person who scheduled the interview for you and ask them for advice.
Whatever you are planning to wear on the interview day, check the attire beforehand. Try out several options, check whether they fit appropriately, and choose the one that suits you the best.