10 Reasons why you should apply early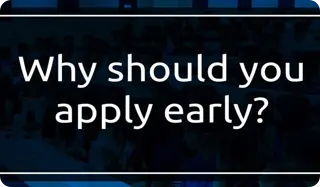 MU's Early Decision/or/and/Action Plan is known to save students a great deal of stress, time and money during the Admission Process. You are eligible to apply even before your entrance test results.
Besides the obvious benefits, the advantages of applying early are many, and can add a lot of value to your college life and career in the long run.
So, here are 10 reasons why applying early is a wise idea!
You will, if you are serious: The way we see it is that by applying early, you are letting us know that you have thought this through, and are sure of choosing this college. And that's nice to know. If you are truly serious, it also helps us pick worthy candidates during the admission process.
Secure your admission: You may have a number of colleges in mind to apply at, which means that the field is yours to play and you have to take your shots. In this case, it is wise to apply early and secure your admission. If for some reason, your application is not accepted, you will be saving yourself the troubles of last-minute dejections.
Avoid last-minute stress: Quickly scanning through notes minutes before an exam works sometimes. Last-minute struggle gives anyone a kick but it is not practical. Especially when applying for college admissions. It is a meticulous process involving tedious paperwork and thorough research. Would you really want all the tedious tasks to fall upon you at once, and in the last-minute when the risk is as high as costing you an year of education?
Your choice of subjects: Yes, they are yours to grab if you act fast. In a competitive world, it is wiser to act faster.
Deserving financial aid: If you are eligible for financial support, your early application could play a crucial role in the allotment of a financial aid towards your education.
Your choice of college: If you are sure that MU is the college that fits you, then there is no reason to wait. Act fast, and secure your admission in a college of your choice now!
Take a vacation: By applying early and accepting your admission much before the deadline, you gift yourself the peace of mind to travel. With nothing to worry about, you can allow yourself to be swooned by the adventure ahead. So just pack your bags, and head off with that trekking crew or your school friends for that holiday of a lifetime because you will never be 17 again!
Make some extra money: Why not use the time saved through an early admission in a Summer Internship to gain work experience,and some extra pocket money. This could keep up your social skills, and if the job is related to the subjects you have chosen to study, the practical experience adds great value to classroom learning.
Pursue your hobbies: The period of 12th Board Exams, Intermediate Exams and College Admissions is a time of stress for both you and your family. Luckily, soon after comes the time for fun. Relieving yourself of the worries of College Admission, gives you the freedom to explore. Pick out your hobbies and make time for them before you get swarmed by college responsibilities.
Stay ahead of your class: If you are a nerd, you have all the time to turn through your upcoming lessons, maybe try and learn them on your own, and maybe you will ask the right questions in class, stay ahead of the class, and maybe even tutor your crush.
Prep for Campus Life: Meet your favourite aunts and grandparents before you leave the nest. This is the biggest part of preparing for college. They will not see you as often once you are in college. You will be absorbed in your own life out there! So sit with them and let them tell you stories from their college life. It will feel good.