Beyond classrooms and lecture halls: Adapting to Online Learning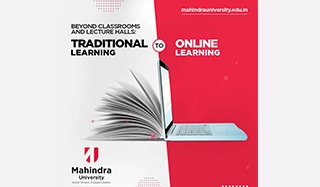 Life at MU October 1 ,2020
Imparted by a number of the world's top-ranked institutions, online learning offers you all the perks of attending your dream university, from a remote (and safe/secure) location. Thanks to the rapid advancement of technology, online learning is a part of course offerings by many universities around the globe and a preferred option in the current pandemic scenario. From certifications, Ph.D.s, to impactful online learning and everything in between, learning online has never been so easy.
Advances in technology now allow students to learn and study entirely online while still socializing with classmates, watching lectures and participating in subject-specific discussions. With courses available in almost every subject, and versatile time-tables to suit almost every geography, students are increasingly getting attuned to online learning as a viable alternative to on-campus study.
The tutors during online classes take care and ensure that their students receive an equivalent level of support that they get on campus.
Aspects and Resources of Online Learning
While taking an online learning program, the students will be officially registered with the respective institution and will have the access to all and equivalent resources as on-campus students, like the institution's digital library, learning management system (like Blackboard), building membership, etc.
The respective institute and course instructor determine the format for every individual course and select the delivery methods that are best suited for the respective course or program. The resources offered for learning online will depend upon the institution where the students will be taking their online program.
For the institutions that have made the transition to using 100% online resources, students can expect to learn using the technological resources with no difficulty in attending the lectures, exams or in-person discussion sessions.
Online learning could also be a totally new experience for the students who may come from traditional learning backgrounds.
While taking the online lectures, you would be able to access the following resources associated with online learning:
E-Books, Journals, and Textbooks –
These materials are essential resources in almost every course the students take when learning online. Using the reading list for every course, or on the recommendation of course instructor, the students will need to allocate quantity of their time for reading and understanding the topics within the literature. The advantage of using this medium (particularly eBooks) is that they are completely portable, and will allow the students to review on the go from their computer, phone or tablet.
Recorded online lectures –
Lectures work as a staple of online and campus-based learning, an essential way of absorbing an amount of data during a relatively short time period. With online learning, the students can attend the lectures from their bedroom or where ever they want to.
Interactive sessions –
The greatest challenge an online learning provider faces is the way to replicate the face-to-face interaction and in-person discussions that on-campus institutions can easily provide. Online degree programs often use a mixture of forums and interactive question-and-answer sessions (Q&A) to offer students the interaction with other students and instructors they would like to get in contact with.
Points to remember while using resources of Online Learning
When you are researching a course or program, remember to see whether your textbooks are included in your tuition fees. Check if you will need to pay extra for your textbooks, or they will be available as eBooks in the institution's digital library.
If you can, try making notes throughout your online lectures. This will make it easier for you during the exams and will be helpful in any assignments you will need to finish throughout your course.
Before beginning an online discussion forum or interactive session, make sure you read the principles and requirements.
How online learning works?
The course or module's learning resources are going to be delivered via the institution's online learning platform. Online students often think that their learning resources are going to be delivered via email. Most online institutions are moving far away from this unreliable method of delivery.
The training platform will vary counting on the software used, but it will usually contain a central online platform that students can access from their personal PC, mobile or tablet. As an online student, they will prefer to access the course information and complete their assignments at any time. One of the main benefits of utilizing resources that are hosted entirely online is flexibility. This will help the students to study even while concentrating on other commitments, conveniently as precious time is saved when there is no commute involved. This also means that the students who wish to continue working while studying do not need to put their careers on hold.
Students taking a course online will still be tested at regular intervals throughout their study period to assess their understanding of the course materials. The assessment will be done through the following measures:
• Individual Assignments
These are probably the starting point of assessment that students will have the foremost experience with. For every assignment, the students will receive a topic, deadline and word count. They will be required to submit an assignment structured as per the guidelines set by their course instructor.
• Discussions
An online academic discussion requires a special set of skills, and won't come as naturally when you first start your online learning journey. The discussion activities may differ as per institutions, but the discussions generally start off with an issue or topic for debate. Students need to research the subject and post their responses demonstrating their own knowledge and understanding.
• Journal activities
Like discussion activities, journal activities tend to be specific to online courses. A journal entry is an update on what the students have learned, and how they will use the respective learning in their future. Online learning doesn't happen in classrooms, and journal entries are straightforward ways for course instructors to know the progress of the students within the right areas.
• Exams
Although they will be nerve-wracking, the institutions may prefer to allow students to finish their exams on their own computers, at whichever location they like. Because tutors do not have any access to oversee the students performing during a virtual exam or test, the exams are typically open-book. Some institutions may use exam software or tools to watch if the students visit other websites while performing the test on their computers.
Online learning and Employment
Once you get an in-depth understanding of how your qualifications earned online are recognized in your country, abroad, and in the area of interest, you will be ready to plan how you will present your online learning experience to employers.
In fact, many employers now recognize that studying online (and also part-time) takes an outsized amount of dedication and commitment.
The statistics show that around 33% of school students are taking a minimum of one course online, over and above their normal syllabus. This increased participation will naturally cause increased recognition of online learning beyond the classroom. Furthermore, there's a 71% expected increase in online enrolments overall.