Is Hybrid Learning the New Way of Learning During COVID-19?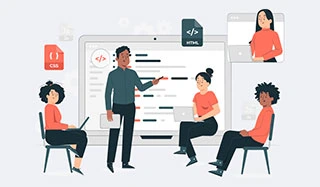 There is a remarkable change in learning methodologies due to the social distancing norms required under COVID-19 protocols. Hybrid learning is a learning approach that combines both remote learning and in-person learning to improve the student experience and ensure learning continuity. In addition, it helps in focusing on the needs of the particular students and providing more attention as there will be fewer students in the online classes.
During the first lockdown days, the teaching methodology was virtual, primarily classes offered by the schools and colleges. Then, as the regulations from authorities eased, a gradual hybrid way of teaching commenced. As a result, the students get to experience their life at the campus as well as learn from home on a few days. At Mahindra University, hybrid or blended learning provides the students with the best of both. A campus teaching e held with utmost care and adherence to required covid-19 protocols combined with remote teaching.
With the governments imposing restrictions and temporary lockdowns, it is becoming difficult for students to pursue education without interruptions. Therefore, leading educationists think that a hybrid method of learning is the best way to minimize pandemic risks and, at the same time, ensure effective learning.
Through COVID-19, we are forced to rethink the teaching methods, such as the combination of distance learning via video technology and at campus with a small group. This seems to be an effective learning combination.
Now it is time to build on the above experiences and take on the lessons from teaching research. The main problem lies in tier 2 and tier 3 and rural areas where students are handicapped with connectivity issues. Connectivity in terms of telecommunications technology and physical connectivity due to inadequate transport connectivities. These issues need to be addressed by the various governments.
How Hybrid mode is better than virtual mode?
Mental health issues are rising due to reduced or no social interaction. Social isolation can cause depression and social anxiety under 100% virtual learning mode. Hybrid learning can beat the blues of online learning. In the hybrid mode, the students get a feel of classroom learning as well as virtual learning. Collaborative work and social interaction help in better understanding of lessons, and interaction with friends reduce mental health issues.
Boredom and monotony set in with reduced social interaction. But with both online and offline cases, there is better and more mingling amongst friends, and physical interaction provides an opportunity to relieve stress. This could be in games, sports, group activity etc.
The college conducts classes most of the time in a virtual mode. The online methodology does ensure high productivity amongst the teaching staff as well as very focused students. However, it is not a convenient mode for raising doubt and seeking clarifications on extempore questions and answers. The intensity and depth of discussions in a physical classroom session are of far superior quality than virtual classes. Therefore, hybrid classes provide a method to incorporate virtual and in-class learning smoothly.
Thus it is clear that the social interactions among the students and the teaching community has impacted severely during the COVID 19 situation. A hybrid method of teaching and learning can provide a via-media solution. One can perhaps have the best of both worlds in a hybrid model by attending the university on certain days and learning while staying at home during the stipulated days.